A Win, A Blown Tire and a Night The Universe Slowed Us Down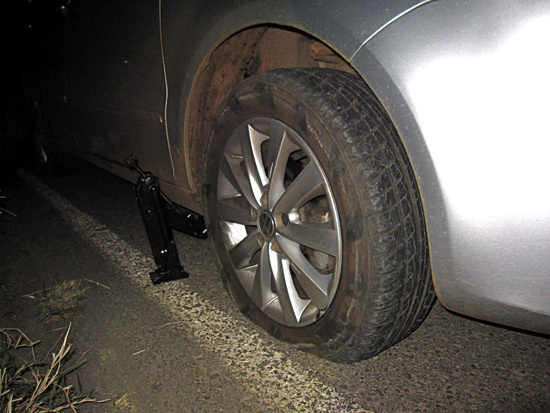 If there is one thing I have learned, it is to trust the universe.
For most people, December signifies holiday season.  People are busy with decorating their homes, shopping, gift wrapping, baking and fun parties.  For those who love the holidays, it is the most wonderful time of the year.
My husband was a high school football coach for 24 years and our December looked different.  December for us was not about the holidays or the festive traditions, it was about the playoffs.
Instead of decorating the tree, my husband watched film.  Instead of holiday parties, we had games to attend. Instead of Christmas cheer, we had pom-poms and cow bells to bring our own kind of cheer.  Our holiday season centered around his team, their success and what game was next.
In 2018, his team made it to State. It was a huge accomplishment and one that was amazing, but also exhausting.  The game was to be played in Los Angeles, some 350 miles away from where we live on December 14, smack dab in the middle of holiday season.  The week before the game was a whirlwind—booking hotels, planning meals to feed 70 high school boys with insatiable appetites and helping with the all the logistics involved with this immense road trip.  If I saw my husband, it was in passing.  Brief moments. We were lucky to steal a kiss or a "How you are doing?" but that was it. No long conversations, no time together, no reflecting on life.  He was focused, in the zone and completely consumed with what was ahead.
The game was amazing.  They won with an overtime victory in what was the most exciting win in his coaching career. It was especially emotional because only he and I knew there was a possibility it might be his last game coaching high school football.  The post-game was filled with tears, hugs and so many pictures with people we had grown to consider family.  It was the perfect night.
Until the universe spoke.
When all was said and done, the players were checked out to their families and all equipment was loaded for the return trip, there were 6 of us left. Our family of five and our daughter's best friend. We were the very last ones in the parking lot at 11:30 pm, only to realize the rental car we had was a small car that fit five people. We had a dilemma.
If I am being transparent, and it is not a parenting moment I am proud to admit, but we all piled in. My husband driving, one son in the front and four of us jammed into the back of a tin can that claimed it fit five, but my guess is it meant five toddlers. I insisted the kids use the seat belts (my grasp to save myself as a parent) and I laid across everyone in the back.  We were tightly tucked in, but we did not have too far to go to get back to the hotel where everyone was celebrating so we thought we were safe. Nothing was going to ruin our perfect night.
Or so we thought.
Somewhere between the stadium and the hotel, we blew a tire on the freeway in Los Angeles at midnight.  When I say blew a tire, I don't mean a slow leak that gives you a warning light to have the tires checked, I mean a loud boom, followed by a flapping sound and then a thump thump thump as the car became undrivable.  My husband managed to get to car pulled over to the side of the freeway and we realized we needed to call for help when there was no spare tire to be found. They told us the tow truck would be there within the hour and to not leave the car because the tow truck needed the rental car keys.
My biggest concern was getting our kids off the freeway so they were safe.  We called an Uber to come pick them up from the side of the freeway and my husband and I would wait for the tow truck.  Forty-five minutes after they were picked up the kids texted, they were safe, showered and ordering room service.  Lucky them.
The funny thing is thar our cell phones were blowing up with people congratulating us and wishing us well on our night of celebrating.  People assumed we were whooping it up somewhere and while we wished we were, the universe had other plans.  We trolled social media and saw everyone else having a good time celebrating the victory and toasting to a State Championship.  But not us.
We were by ourselves, still stuck on the freeway, sitting all alone until a highway patrolman came and pushed us off the freeway to an empty warehouse parking lot in the middle of the city.  Another hour passed and no tow truck. We called and asked for ETA and we were told "soon", code for we have no idea.
There we sat, nowhere to go because the universe had slowed us down.  My husband emotionally spent, wet and cold from the Gatorade bath, and hungry was in no mood to be positive.  He had enough; he was going to leave the keys in the car, and we were going to call for an Uber to get us to the hotel.  He called the rental car company, and they said the only way we could do it was if we left the keys in the truck and all the doors locked.  Great, we had a plan.
We put the keys in the truck and shut it with force.  We were bidding farewell to the clown car.
"Hallelujah" we thought.
"Nope" said the universe.
The trunk popped open.  The key fob was "helping us" not lock our keys in our car.  Technology had screwed us.  He tried it again three times, same results. He was so angry, and I will never repeat what came out of his mouth as he kicked the tires—it was not pretty.  After the fourth time, we just started to laugh at the irony of it all. How could we not– it was hilarious. There were no words for where we were at and what had transpired. It was out of our control and all we could do was settle in and laugh.
At some point we scrounged around our bags and came up with a bag of gummy bears and one peanut butter Clif Bar.  We decided to enjoy our little feast sitting on the hood of the POS car that had failed us.  We split the Clif Bar, and each took half of the Gummy Bears, both tasting delicious and so grateful we had something to eat.  The universe took care of us.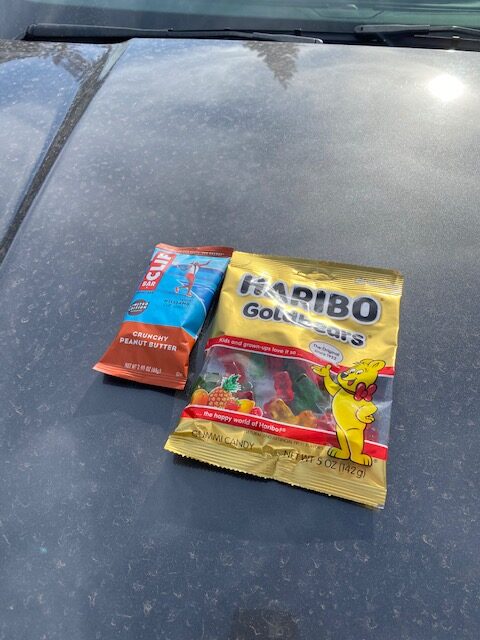 While we were sitting on the hood of the car, a security guard in a golf cart from the warehouse pulled up to check things out.  We explained what happened and that we were waiting for a tow truck. He let us know that if we needed anything to come find him and he would help any way he could. He was a nice guy and I think the universe sent him.
He started to drive away and then stopped and pointed at our sweatshirts.
"You from Folsom?" he asked.
"Yes" we replied.
"I heard they have a great football team up there" he said.
Looking at each other and smiling we both nodded.
Finally, my husband spoke with a subtle grin and a wink at me. "Yes, we've heard that too".
That moment began "our moment". 
As the security guard pulled away, we began to talk about everything we had not had time to talk about for the last few crazy weeks and months. We talked about things we would had never had time to talk about if we had made it back for the hotel celebration. We shared, we laughed, and we reminisced.  He told me all about the game, his emotions, and his thoughts. I got a play by play analysis of the final exciting moments of the game.  This led to us chatting about old games and players from other seasons, families we had grown to love and moments from the past we had forgotten about. We talked about the gift we had been given to get to know so many amazing young men and to watch them grow from silly boys to strong men ready to launch into the world. We talked about relationships we had made, people who we would stay in touch with for the rest of our lives because they were family now. We talked about our favorite players, role models to our sons when they were little, and how we would not change a thing, including the painful losses.  Those losses proved to be lessons and motivation that got him to lead his team to believing in themselves and striving for victory.  We talked about what a true blessing his job had been in our lives, our marriage and how thankful we were for the journey it took us and our family on.  We slowed down long enough to feel gratitude deep within our hearts and soul.
And then we talked about what was next. What our next chapter might look like and what a bittersweet move this was for him.  He had loved his job with a passion, but he was ready for a new challenge. We talked about how hard change is and that the days ahead could be difficult but also exciting and new.  We vowed that whatever happened, we would handle it together.
That night was a stolen moment for us.  It was a sacred moment that felt set apart from everyday life.  It was a special moment in which all distractions seemed to melt away.  It was a blessed moment of deep connection, regardless of the circumstances.
When we are forced to slow down long enough, we realize everything will be alright.
Not getting what we want can often be the greatest gift.  What initially feels like a disappointment often turns out to be an opportunity.  When we release our grip of what things are supposed to look like, we open our hearts to all the good that surrounds us.  And the path that the universe (or God, or nature, or spirituality) is leading you on is often even more beautiful that what you imagined, even if  you can't see it in the moment.
I like to think that the universe brought us that sacred moment.  And if I am being totally honest, I think it was all part of God's plan.  I am a believer that things happen the way for a reason and that God's plan for us is so much bigger and better than any plan we may create in our own head.  I know God had our back that night and things happened exactly the way they were supposed to.  That night, sitting on the hood of a car in an empty warehouse parking lot at 2am turned out to be one my all-time favorite memories with my husband.  There was no one there but the two of us, just like in the beginning of his coaching career 24 short years ago. Sometimes the end and the beginning are the same place.
The universe brought things full circle and when we paused long enough to enjoy the moment, it turned out to be a memory I will hold in my heart forever.                                        
The win started the perfect night