After High School, the No is as Good as the Yes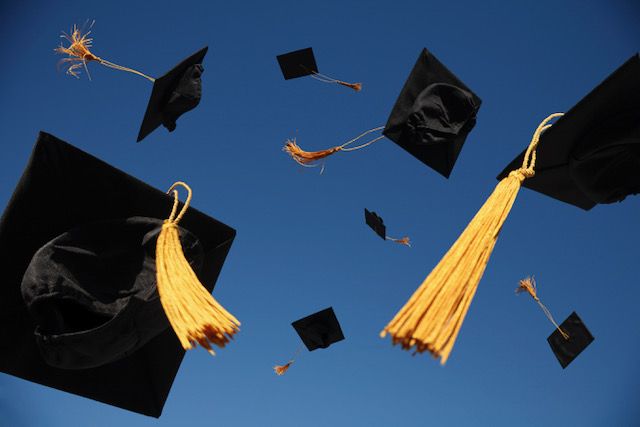 Life likes to play tricks on us. High school seniors start the year looking forward to the "Best year of high school". They envision the joys of being the kings of the school, the leaders, the cool kids, the ones coasting into graduation.  They can smell their cap and gowns, senior ditch day, and senior portraits.  They know the year goes fast and it's the only time since kindergarten they remember being excited to start school.  Second semester should be the dream semester—the final countdown is on.  They lean into the idea that they are done, no more stressing. Time to par-tay.
Hold up. Don't send the graduation announcements yet. While it's common for seniors to play pranks, this prank is on them. High school is the last frontier before adulthood and crossing the final leg of that frontier has challenges some seniors aren't expecting.  If they expected their senior year to be all fun and carefree, they are in for a surprise.
Second semester of high school, for many students, is THE most stressful time in their lives.  Perhaps not the whole semester—but January through April can feel painful as they await the choices or decisions they face as high school ends.  The "what's next?" question looms over and seems to be the focus of what everyone talks about.
For some seniors, the idea of going to college feels overwhelming or unappealing.  It's hard to say "no " when everyone else around you is talking about how excited they are to launch. This brings up a feeling of "what's wrong with me?" for thinking a way that seems very different than their peers. Some seniors chose a trade school or the military but that comes with unknowns as well.  Some pick a gap year and plan to travel or volunteer their services but coordinating all the logistics can mean a lot of research and decision making.  Some people simply want to work and take some time to figure things out.  Any answer to "what's next?" feels loaded and scary. Saying no to other people's expectations is difficult. Gulp.
For seniors who know they are going the college route, second semester means the anticipation hits an all-time high. Some seniors have known since they were little they wanted to go to college, but the question of where seems daunting and unnerving.   They have entered purgatory called "The Waiting Game".  They don't want to over-think where they will go or over-hype one school because what if they get denied?  They don't want to say too much because they don't want to jinx it. They pray for good news, but prepare to be disappointed.  They hope, but they know it's out of their hands.  They question did they do enough to land where they want to be. Let's face it, waiting to hear from colleges feels like a four-month roller coaster ride. Double gulp.
Time spent waiting for acceptance or denial feels like an eternity.  No longer do kids sit by the mailbox trying to decide from the size of the envelope what news lies inside. Those days are done. In today's modern world, high school students click just a few buttons to determine their fate.  What once was so exciting is now so incredibly stressful.
It's amazing how much hangs on one word "Accepted".  For an 18-year-old student hoping to go to college, that word equates to what the word "Lottery Winner" would mean to us as adults.  We think winning the lottery would change our lives, they feel the same about being accepted into college.  We see winning the lottery as bringing us freedom, happiness, and opportunity. They feel the same.  We dream about what we would do with all the money, they dream about what they will do with all the possibilities college brings.  As adults, we forget the magnitude the word "accepted" means to someone waiting to hear. Let's give high school seniors some grace for being ass-holes—they are simply waiting to hear if they won the lottery.
Everyone seems to focus on the "Yes".  "Yes, I got in". "Yes, this feels right for me". "Yes, I can see myself here for the next four years". "Yes, I like the location". "Yes, I want to go".  But what about the "No's"?  We tend to dismiss it's value.  The "No" is just as important as the "Yes".
"No, I'm not ready to leave." There is no shame in staying home and going to community college.  Most financial planners would probably say it was a smart decision to get your general education done before you plunk down $40,000 a year.  Knowing you aren't ready to go live alone at college isn't a bad thing or doesn't mean you are unmotivated or lazy.  It means you are listening and trusting your inner self and you know your limits.  Good for you.
"No, I don't like the campus". Walking on a campus is much different than looking at it through a screen. All schools have a vibe and you need to decide if it's the right vibe for you. Maybe it's too small and feels like another version of high school or perhaps it's too large and you feel like you would be swallowed up and lost. It's not the number of people on campus, it's the community where you will learn best. College is a personal choice and if being on a campus doesn't feel right, it's okay to say no. College is a match to be made, not a prize to be won.
"No, we can't afford it". This is a hard one because perhaps your dream school means you leave college in debt to your eye-balls.  Having the long-term vision to decide that you don't want to spend the next twenty years paying off your college is a good reason to pass on your dream school. Employers are looking for your skills, strengths, and experiences—you can find success at any college.
"No, I don't know what I want to major in". At eighteen, you don't need to have the next fifty years planned out.  It's okay to check the box that says "Undeclared".  College is supposed to be a time to figure yourself out.  Give yourself permission to do this and not locking yourself into a major you aren't sure is right for you.
"No, I don't want to room with my best friend". Who your roommate is can dictate a large part of your first-year success and connection to the school.  Choosing to live with someone you already know isn't a guaranteed perfect match.  Don't let someone pressure you into living together if you think it will deter from your ability to get out and meet new people.  College is about branching out, not being comfortable.  Make the best choice for you, regardless of what others say.
Being a senior in high school has many perks and plusses, but also many strains and stresses. The constant worry of "What's next?" can send a once chill and happy person into a state of agitation and grumpiness.  It's important we remind these emerging adults that regardless of their decisions, they can have success in whatever route they pick.  Everyone needs to continue their education after high school—it's just a matter of what that education looks likes.