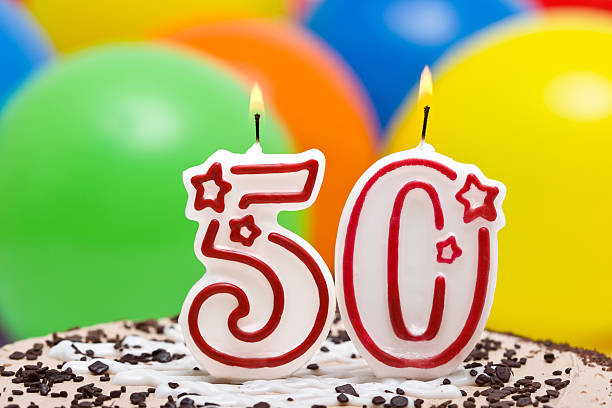 Dear 50,
You got me.  I ducked and dodged you all year and you finally caught me. Time is undefeated.  Everyone says you're just a number but we both know, it's a big number.  When I was a perky little twenty-something, I thought of 50-year-olds as over the hill, senior citizens, geezers, old-timers, and (gasp) elderly.  I wish I could go back and slap that skinny little bitch. What did she know anyway? She thought bike shorts, heavy eyeliner, and butterfly clips were cute.
50 isn't that bad, right?  It's honorable, respectable, makes me dignified. Who am I kidding? It's the ultimate F-word.  The big Five O.  Let's be clear: 50 does not feel nifty.  To those that say 50 is the new 30, I call BS. At 30, my boobs still had shape and my neck didn't look like a turkey. 50 is one step closer to Depends and a pacemaker. 50 welcomes menopause and lets gravity take its toll. 50 is sneezing and knowing a dribble is going to come out. 50 is about taking naps and colonoscopies.  Thanks to my dear friends, I know what's ahead.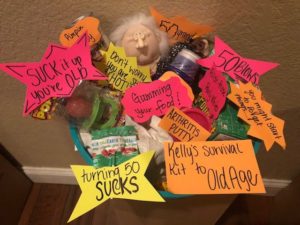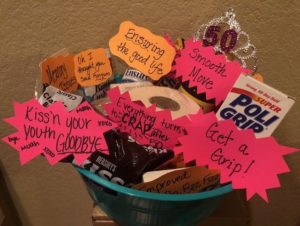 For some odd reason turning 40 seemed exciting. I embraced it and thought it was a fun decade.  I was fine with leaving the 30's because I felt smarter and more settled going into my 40's.  I knew who I was and felt established.  My kids were younger, and life was all about them.  I moved from the football field to a dance recital to a class party. I planned family vacations around what hotel had the best swimming pool, packed endless healthy lunches, and spent extra time in the bathroom if I needed to finish a good book.   I made wonderful friendships with my fellow moms and it was a season of life I would do all over again if I could.
Turning 50 feels different. Like a rite of passage or a root canal.  It feels painful.  This will be the decade I become an "empty nester".  Damn, that's old. Add to that, I can join the AARP and be a card-carrying member of the American Association of Retired People.  They even sent me the letter BEFORE I turned 50, like I was eager to rush to the nearest Denny's and get my 4:00 pm dinner discount before retiring to my bedroom to watch Murder She Wrote. The first person to offer me a senior citizen discount may get hit with my invisible cane.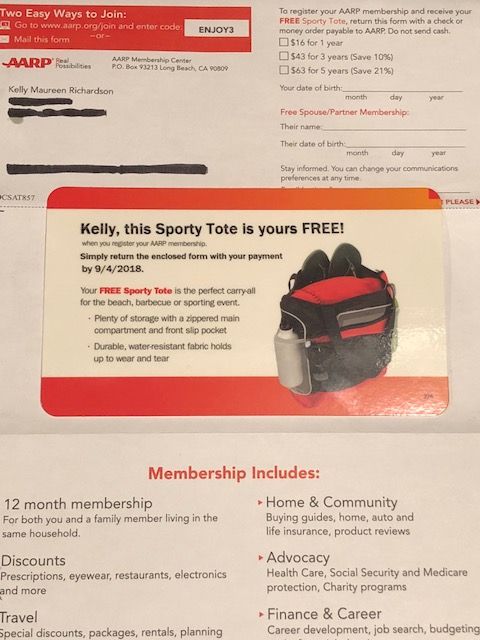 I'm turning 50 but I refuse to be called old. I'm 50 years young.  Or 25 years doubled. Or 49 and a few months. Or 18 years old with 32 years of experience.
I guess 50 isn't so bad.  I love a 50% off sale and 50-yard line seats are the best in the house. There are 50 states in this great country of ours. 50 Shades of Grey- say no more. I guess I can embrace all that the last 50 years have taught me and become a better person for what I have experienced. Perhaps with a little optimism, I can lean into 50 and take the life lessons  I've gained with me.  As I prepare for the next decade and reflect on the last 50 years, here are 50 things I will take into this new chapter:
I haven't determined who my spirit animal is and that's okay. Taking suggestions.
Nice hotels are worth it at my age. I'll pay the extra for a great shower and room service.
Girlfriends are what makes the world go around. If you don't have them, I feel bad for you.
Good vodka beats cheap vodka all drink long.
If I want something, I buy it. If I can't afford it, I don't… unless it's a good purse or pair of killer shoes.
Hangovers suck. Hair of the dog, my ass.
If I want to punish my husband, I don't give him the silent treatment. I talk his ears off.
Hole in the wall Mexican food is the best.
Laughter beats tears except when I'm laughing so hard I'm crying.
A house full of hungry, loud teenagers fills my cup.  My house may not always be clean, but my front door is always open.
I refuse to write Merry Xmas. It takes Christ out of Christmas.
Behind every successful woman, is a tribe of women who have her back.
Popsicles and holding hands are underrated.
Facebook likes and prestige are overrated.
I want to make memories, not beds.
Wearing a bikini has nothing to do with my body and everything to do with being easier to go to the bathroom.
Growing up in the 80's was a blessing. Thank God there weren't cell phones to record my college years.
Thong underwear isn't comfortable. It's a voluntary wedgie.
I refuse to act my age. I'll act whatever age I freakin' want to. Word.
Presence beats presents anyday.
Regardless of what my kids think, I can dance.
Running late to happy hour does not count as a workout.
Some things are better left unsaid… or untweeted.
Life is not a fairytale. If I lose my slipper, my dog probably ate it.
The world needs strong women.
Going to the movies alone lets you leave if the movie sucks. And no one eats your popcorn.
My husband has an amazing bladder: it's amazing that every time I come home from the store he must pee when I'm unloading the groceries. Amazing.
I love Starbucks. Say what you want but my $4 iced tea tastes better than anything I can make at home.
I don't get Kim Kardaishan. She's done a number to those of us born gluteus-challenged. Squats and lunges can only do so much.
Bacon makes everything tastes better.
Sometimes the only thing I can do is pray.
No one cares about your SAT score once you graduate high school.
I never want to take myself too seriously. I'm okay if people think I'm silly or goofy, at least I'm not boring.
I appreciate people who give good hugs. But don't be a creeper and hold on too long.
My husband will ask "Whatcha doing?" when he can clearly see what I'm doing. WTH.
Getting a letter or card in the mail makes me smile because I'm so happy it's not a bill.
Hair doesn't make a woman, but a good hair day helps.
Never say never.
Being proud of my kids isn't boastful. They are awesome humans, not perfect but awesome.
Good tweezers are like a best friend. You never want to lose them.
Make time to help others.
Humility and a sense of humor make a person very sexy. Bald is hot.
I love the Real Housewives of Orange County. Professionally speaking, those women are bat shit crazy.
Don't let a bad moment become a bad day.
My kids can destroy a clean kitchen in seconds. They are masters at the art of destruction.
I'm okay that my body is not a temple, it's more of a bouncy house.
An exterior fix will not heal an interior wound.
Saying no to others is often saying yes to myself.
A good bra makes all the difference when trying on new clothes.
I have a lot left to learn. I never want to stop growing or trying new things. Life has many lessons left to teach me and I'm looking forward to them all.
So, let's call it what it is. I'm vintage, not antique. Wiser, not to be confused with wider. Limited Edition, all original parts.  A classic. 18,250 days old.  Halfway to becoming a centenarian. Not over the hill yet but standing on the top looking at where to travel to next.  I'm in "The Club" now.  Peace out 40's. You will be missed.
And so, the adventure begins…
Kelly