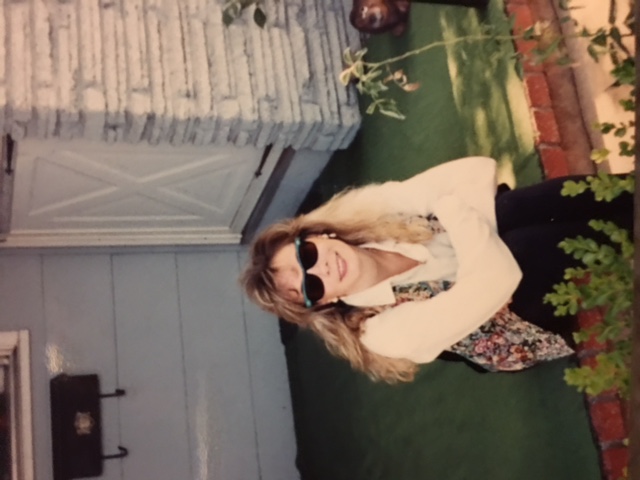 Yesterday I assigned one of my patients the homework of writing to her 20-year-old self.  She was struggling and needed to offer the same grace and forgiveness to her young self that she would offer to others. Knowing what I know now, what would I say to 20-year-old Kelly?  What advice would I give her? Would I warn her or just let her learn on her own? Here goes…
Dear Twenty-year-old Me,
First, let's get the important things out of the way.
Please get rid of that floral two-piece outfit you got at Contempo Casuals.  No matter what your roommates say, it does not look good on you.  Run, don't walk, to the nearest dumpster and gift that outfit to the Fashion Gods.  They will be thankful for your donation and you will no longer look like a walking flower vase.
Lay off the Aqua Net.  Higher hair does not make you look taller or thinner and the more you tease, the messier it looks. Less is more in this case.  And please, no more perms. Your future hair thanks you.
While we are on the subject of practical things: SPF 4 is not adequate sunblock and using baby oil to "bake" in the sun is something you will regret when you start using beauty products with names like "Revitalift" or "Miracle Cream".  Electric blue mascara with hot pink blush caked on is a no-no.  Seat belts are not optional and stop riding in the back of your friend's truck—on the freeway.  Use more caution with your skin, your sense of style and your safety.
You are about to enter a stage in your life that has more ups and downs than a ride at Disneyland. You will dream, dance, and doubt yourself more than ever. You will have days when you wonder who you are, why things happen and where you are headed, but promise me you will stay the course.  Don't ever give up on your dreams and don't settle for anything less than what you deserve.  You are stronger, smarter, and more sensible than you know.  Stop comparing yourself to other people who seem to have it all together—no one is as perfect as you think they are.
Here's an important secret: some people won't like you and it's okay.  You don't need to please everyone else to be happy.  Only keep people in your life who support, accept, and appreciate you for being exactly who you are.  There will always be doubters, skeptics, and haters. Ditch the friends that drag you down. Don't invest time or energy in people who tell you to change or want to fix you.  Stop worrying about what people who don't matter think.  When you get to be old, say in your 40's, you will treasure friendships that are genuine, authentic and unpretentious.  Friendships are not about quantity but quality.
You don't need to have it all figured out yet. At 23 years old JK Rowling didn't have money, Tina Fey was working at the YMCA, Oprah had just gotten fired from her first job as a TV reporter and Walt Disney had declared bankruptcy.  At 24, Stephen King was working as a janitor and living in a trailer. You are going to be okay.  You are on a long journey which means things will change and so will you. Be prepared for detours, U-turns, and delays.  The truth is, life is all about adjustments.
Be brave, sweet girl. What lies before you and what lies behind you is nothing compared to what lies within you. Growing up takes courage and being uncomfortable is the start of becoming authentic and transparent. Don't run from discomfort, learn from it.  It's funny because being brave will make you feel vulnerable and exposed and yet, it will also liberate and unshackle you from trying to please others and seek their approval.  The secret to being brave isn't to avoid or deny fear, the secret is to face it.
Read more; do more; travel more; journal more, learn more.  Stress less.
You are a worrier. Celebrate your strengths, accept your weaknesses and practice letting go of things you have no control over.  You worry about things that do happen and you worry about things that don't happen. Either way, you still make it through. Nothing is ever as bad as you think it will be, except maybe your break-up with that crazy hairstylist Jerry. He had issues.
Try new things. Who cares if you fail?  Get up, dust yourself off and try again.  Learn from your experiences.  Failure is not final. Not getting accepted into Notre Dame for post-graduate school will be a huge blessing. Be grateful for that denial.  Sometimes rejection just re-directs us to something or someone better.
Wear that bikini. Trust me, now is the time.
You're going to make a lot of mistakes, too many to count. Hold on tight because the ride gets bumpy and the paved road to your future is not without potholes and speed bumps.  Those mistakes and moments will help build character and teach you about adversity but I'm not going to lie, they suck.  Setbacks and fear are inevitable, same as disappointments and heartaches.  Prepare for them and get ready to dig in and work hard.  You weren't raised with a silver spoon so don't expect great things to just fall in your lap. Anything you want, you must work for.  Nothing worth having comes easy.
Turning twenty-one will open a whole new world for you. Be smart when you go to bars.  Hangovers are no fun and the older you get, the worse they are.  Mixing alcohol makes for a rough night. Repeat after me: beer before liquor, never been sicker.
Call your TuTu.  Take the time out of your busy college life to check in on her and let her know how you are doing.  Better yet, go visit her. Write down her recipes, share a slice at Polly's Pies and take a "moonlight dip" as she called it in the pool.  Be grateful that people say you look like her. Remember when she told you that "good manners were the icing on the cake", she was right. Make her proud with how you carry yourself around others.  Go shopping with her. For a Golden Girl, she has an amazing sense of style.
You know that hottie you think you can't live without- you can. And you will. Stop chasing guys that aren't chasing you.  Honestly, you're 20. Don't focus on loving, focus on living.  It's okay to kiss a few frogs, it's part of the process.  You have so much time to be in love later, enjoy being single and just have fun right now.  You're witty and clever and interesting with or without a guy.  Be willing to stand on your own two stilettos'.
Six years from now you will meet your husband.  I know that seems like a long time but it's honestly not.  Let me warn you: the first six months are bumpy.  He needs time to become the man you deserve so give him that space and time.  You'll see something in him that's worth fighting for so lean in and don't give up.  He's a keeper and he will love you in a way you can't even imagine at twenty.
Enjoy your days in college.  They go by quickly.  Savor the idea that $100 is a lot in your banking account. Go on spontaneous road trips.  Be bold, take leaps, work hard.  Dream big.
Breathe. Kelly, everything is going to fall into place.  You will make it through hard times and you will cherish the good times.  You will be blessed with life-long friends who will stand by you and you will have a family you love beyond words.  Your hard work will pay off. You'll appreciate the journey, even the struggles. You will find success, not in the way of a big house or a fat bank account, but in the legacy you leave with your kids: they will know, without a doubt, they are loved.
Now run, don't walk, and toss out that dreadful outfit. And be grateful there is no such thing as Instagram to help you remember just how lovely and stylish you looked wearing it.
What would you say to 20-year-old you? What advice would you give your young self?