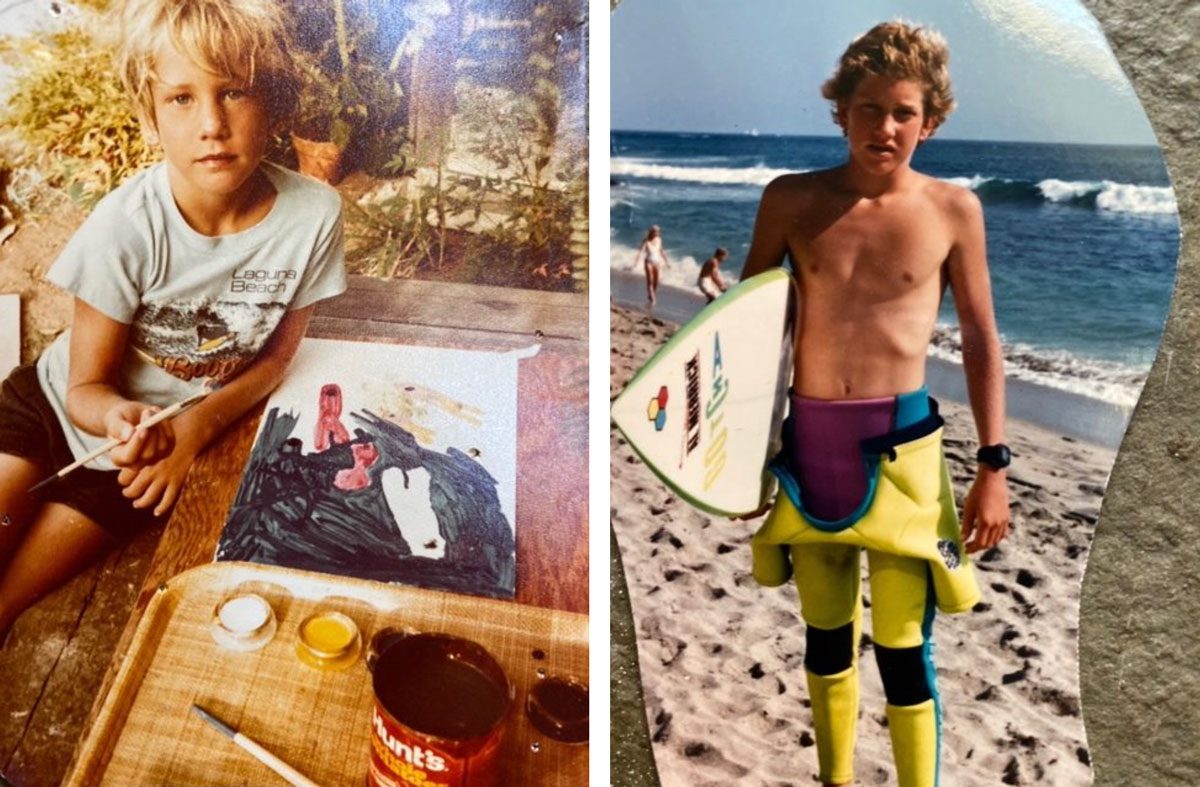 Two nights ago, I received a message no one wants to get.
My precious cousin took his life.  He was 45 years young.  It was a gut-wrenching moment.  Heartbroken. Tears.  Sadness.
Statistics show that around 800,000 people die by suicide every year, and it's the biggest killer of men under the age of 45.  That is over 2,000 people every day. 2,000 people who hurt so bad and feel that disparity has engulfed and taken hostage their spirit.  2,000 people each day who feel exhausted from living and starved of any hope for the future. 2,000 people every day who leave behind so many loved ones who mourn, agonize and ask what more could they have done. 2,000 people each day whose lives mattered.
My beloved cousin, like others who have died by suicide, is so much more just than a statistic.  He was an incredible surfer, racing to be one with the angry ocean on the days that others avoided it.  He was an artist, a true artist, never fully believing in his gifts and talents.  He was very popular in high school without trying to be popular because the ladies loved his golden curls, beautifully tanned skin, ocean blue eyes, and sweet smile.   He was a recovering heroin addict, strong enough to beat that terrible addiction and rise to choose sobriety.  He was an explorer, traveling the world when he was younger looking for the best waves and perfect tubes to ride.  He was a father, so proud of his kids and wanting them to do so much more with their lives than he felt he did.  He was a loving son who took care of his ailing father, my uncle, with a sense of devotion and with such tenderness and affection.  He was a good friend, willing to give to others, often to a place of fault. He was a cool guy, a chill dude, not judgmental of others and so accepting of all people. Simply put, he was a good human.
The last time I saw him he came to cheer my husband and middle son on when they played for the State Championship in high school football this past December.  He came in the cold to sit with us, to root for the team and to give celebratory hugs after they won.  Sadly, I didn't know it would be the last hug I would get from him, the last chance I had to embrace him and the last chance to tell him how much I truly loved him.  I hugged him and thanked him for coming but had I known, I would have hugged him so much tighter.  Had I of known, I would have told him to hold on, stay and please stick around.  Had I of known, I would have told him how special of a person he was.
Had I of known, our good-bye would have been so much different.
Asking him to hold on and stay may not have been fair though because the truth is, I think he was holding on for what must have been a painfully long time to him.  I know he lived with demons, ones that were loud and disruptive to the life he wanted to live.  I know how hard he tried to silence these inner demons and the hell they put him through.  I know how he reached out for help, wanting to create a calm and quiet in his mind but never found the true peace he was searching for.
Three Thanksgivings ago he came to share the holiday with us.  We broke bread, shared laughter, and spent time together.  At one point we were sitting on the couch next to each other and he quietly told me that I had "done good" and he was happy for the family I created, the life I was living and the kids I was raising.  He told me that he admired my parenting and could see that my kids loved me, even though I said set expectations and boundaries for them.  I was surprised by his observations and thanked him for being so insightful.  He smiled at me and said, "I see a lot, I just don't say a lot".
This sweet boy, with so much inner conflict and pain, was such a deep thinker.  And a deep feeler. My cousin who loved the ocean was so much like the ocean. The deeper you looked, the greater beauty you would see.  He was such an observer of life and the hidden beauties.  He was a battered soul that never stopped looking at the world through the eyes of an artist, searching for the beauty in simple and small moments.  He was a fighter, stronger than he ever knew, tussling with life and death and battling between his true self and his inner struggles.  Fighting against death is exhausting and eventually, he could no longer fight.
I know that he was a warrior, a kind and gentle warrior who just grew weary and could no longer fight the fight.  Even warriors get tired.
Dying by suicide does not define him. Nor does it define his life, his legacy, or the memories we all have of him.  It simply defines his sadness. I have nothing but compassion and empathy for him, for his pain and for the battle he fought.  I have nothing but love for him and nothing but heartache for those closest to him.  I read somewhere that when someone you love becomes a memory, that memory becomes a treasure. My cousin is a treasure, he was pure gold.
Anyone who knew his heart knows that the world lost a good soul.
If there is any solace, it is that I know he did not walk the bridge from life to death alone. I imagine he was greeted, more like embraced, by my grandparents and especially his father. I imagine they welcomed him home, made a place for him to join them, and washed away any sadness he was feeling.  I imagine they told him to rest, to finally exhale and when he was ready, they would catch up.  I imagine they loved on him and he leaned into all the love they showered on him. I imagine his spirit smiled, his soul danced, and he finally felt peace.  I can only imagine.
Rest in peace sweet cousin of mine, rest in peace.