He Always Gets the Last Hug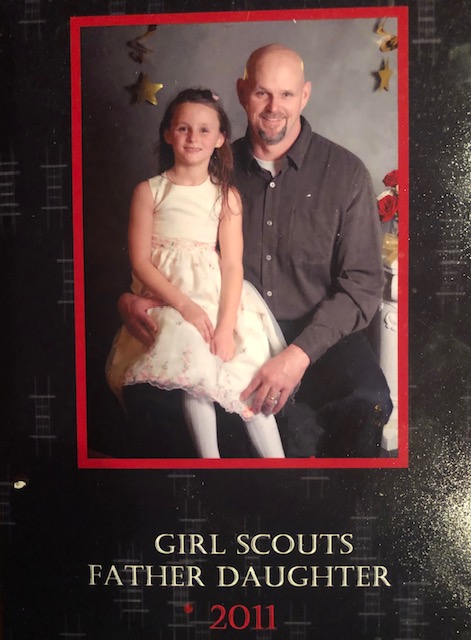 He always gets the last hug.
There are some things in life we just concede too. Some defeats we are willing to accept. Some losses that we cannot change.
This is one.
Every night, without failure, for umpteen years, my husband has gotten the last hug from our daughter. It's their habit, their routine, and their tradition. If I try to be sneaky and wait until he has given her a hug goodnight, she will yell—after our hug– from her room "Dad, I need another hug goodnight". Foiled.
As she has gotten older, sometimes she tucks us in because she is out late with friends. When she comes home, we are lying in bed watching TV and waiting up for her. And who do you think she hugs first? Me. And who gets the last hug? Always him.
Why is this a second place I am willing to take? Why don't I insist on one night—perhaps Mother's Day or my birthday—that I get the last hug? Because I thank God, every night, that she loves her Dad so much and that he has shown her the kind of love she deserves.
A good father will leave his imprint on his daughter for the rest of her life. —Dr. James Dobson
I remember the day Katie was born. We had two boys and knew this would be our last child. Secretly, we were both praying for a girl, but we told ourselves that three boys would be amazing. "Maybe we are meant to be a boy family" we would say, and it made perfect sense. I had a C-section so only two people could be in the room for the delivery– it was my husband and my dad.
When Katie entered the world, the wonderful nurses let Kris tell me what she was. With a shaking voice, trying to hold back his overflowing emotion, he proudly said "It's a girl". My Dad, unable to contain his emotion, starting hooting and hollering, with great gusto. The nurses were both cracking up and tearing up. I often think of that day… almost like a passing of the torch. My dad and I sharing such a beautiful moment watching my husband and daughter begin their journey together.
Later in the day after all my girlfriends had visited and left, I looked around the room and realized my husband was nowhere to be found. Assuming he was at the cafeteria getting food, I waited for like an hour. Finally, he walked in, carrying a very little bag from Baby Gap.
He had snuck out of the hospital and ran to Baby Gap (the only place he said he knew carried baby clothes) to get her an outfit. He did not like the bland little white outfit the hospital put on her and wanted her to have something new, something cute, something pink. He wanted her to feel special from the moment she came to this world and that has not changed her whole life. She will forever be his baby girl.
She did not stand alone, but what stood behind her, the most potent moral force in her life, was the love of her father. — Harper Lee
My daughter has always stood tall. She has been a strong force since she was little (Lord help me!!). She does not back down and speaks her mind, which at times can be a blessing and a curse. She isn't easily intimidated, and she has shown bravery in moments I would have caved. People often said it was because she has two strong-minded older brothers who challenged her and kept her in check, but I believe it was more because she knows—without question—her dad always has her back.
She's never stood alone a day in her life; he was always right there. Loving her, supporting her, challenging her, and believing in her.
He has cheered her on in all things she has done, and she does the same for him. She is his biggest fan, and he is hers. Their love is mutual.
His value and role in her life extends far beyond the eye because we cannot see inside her heart. That is where her love for him lies, deep within her heart. Not only does she hear he loves her, but she also feels he loves her. Her father's unconditional love has set the tone for her life; there is nothing she cannot do, and she is enough without needing anyone else to complete her.
Before you date my daughter, know this: I'm a Dad with a shotgun, a shovel, and a backyard. — Every Girl Dad
My daughter complains all the time that her father is not nice to boys she brings home. She is not exactly right. He is nice, he is just not friendly or welcoming. He shakes their hand and says hello… but that is it. She knows how funny he is when all her girlfriends are over—"Why are you all eating my food?" or to specific friends he knows he can harass "You here again???' but there is none of that with boys. He keeps it simple and straightforward.
If I am being honest, coming to our house might be intimidating if you were a 16-year-old kid. Between her Dad and her two brothers, she has her own Secret Service. And while she pretends to hate it and says that they are a buzz kill on all potential boyfriends, I hope there is a part of her that appreciates feeling very protected. She knows she is loved beyond measure and that she is safe. Every girl, every woman… every person, deserves to feel this way.
The greatest thing a father can do for his daughter is to love her mother—Elaine S. Dalton
He was and always will be her first love. But one day, she will expand her heart to add room for special someone. I pray, each and every day, that she sees how her father has loved me and that becomes the standard for how she deserves to be treated. I pray she has watched the way he holds my hand, the way he speaks to me with words of love and respect, and the way he works hard for our family. I pray she raises the bar and finds someone like him.
She hears him call me beautiful, when I'm looking like a hot mess and she sees him come kiss me every night he walks in the door after work. He loves me unconditionally (even when I don't deserve it) and I know her impressionable mind has seen this, and it will make a difference in her life one day when she is picking a partner.
Through him, she has learned what right looks like. She knows what real love looks like, sounds like, and feels like. She knows that she is worthy of finding the same kind of good person who will love her in the same way. And to accept nothing less.
Little girls soften their daddy's hearts. — Paul Walker
If there is one thing I have learned from watching my husband with our daughter, it is that he's figured out how to be a little bit of everything she needs.
Strict. Tolerant. Protective. Accepting. Encouraging. Vulnerable. Funny. Solid. Forgiving. Loving.
I often think how different our world would be if every girl knew, from birth, unconditional love. I think we would see better body images, better self-confidence, more self-assurance, and less insecurities. I believe it could change the thinking of so many young minds who believe their value is tied to how they look, how they dress or how they perform inside of having value simply because they are who they are. Unconditional love is a game-changer.
Fathers don't need to be perfect (moms too!) but they do need to be present. And an engaged and connected Dad who instills confidence, courage and spends quality time with his kids is golden. There are few things as valuable as a Dad like that.
My husband's influence on my daughter is obvious. Their bond is unbreakable. It has been like that since day one. They get each other. She loves me but I believe she needs him. And the fact that he gets the last hug every night, I am okay with it.
Sometimes a girl just needs her Daddy.