More Blessing, Less Stressing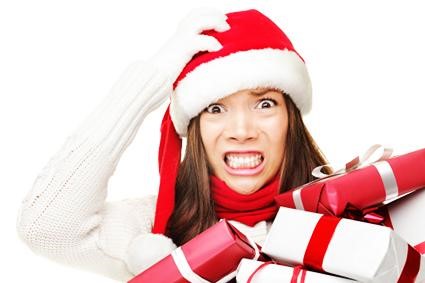 Let's face it, the holidays are stressful.  Like acne producing, can't fall asleep, list after list, stuff-my-face-with-carbs kind of stressful.  There is so much to do, so many people to remember, so much money to spend… so much of everything. It's overkill and it's exhausting.  Even good old Charlie Brown couldn't escape feeling blue at the holidays as he confided to his good friend Linus, "I just don't understand Christmas. Instead of feeling happy, I feel sort of let down."
Holiday stress can easily turn into depression and holiday blues are common.  Deep feelings of sadness and anxiety are triggered and for many, it's not the most wonderful time of the year. Holiday cheer gets replaced with over-drinking, over-eating, over-spending, insomnia, and fatigue.  Even people with full calendars can feel lonely and disconnected. When stress is at its peak, it's hard to stop and regroup. While it's meant to be a time of happiness, feeling joy can be a struggle.
If you are one of those whose blood pressure rises during the holidays, there is hope. No more bah-humbug.   The upcoming month doesn't have to be upsetting or anxiety producing. Becoming aware of your feelings and triggers can help you make choices for better self-care.  A few simple steps can bring more blessing and less stressing.
Martha Stewart doesn't live here.
Perfection is just an illusion.  Fun to watch, useless to strive to achieve.  Something is bound to go wrong or sideways and you must be ready to adjust.  It is so much healthier to be prepared to bend than to wait until you break.
My family holidays were less Norman Rockwell, more Clark Griswold.  There was the time my mom (who makes a mean fruit salad but should never be allowed near an oven) didn't cook the turkey enough—or at all actually—so we ate Thanksgiving dinner with no meat.  Against my husbands wishes, we were vegetarians that day.  Another time I had the flu, so we had to open our gifts in shifts around my frequent trips to the restroom to unload my fruit cake.  Trust me, it was not merry and bright.
When we let go of perfect, we appreciate what we have and stop thinking that we need to do or give more.  Holidays aren't about the perfect family picture in matching Gap sweaters or perfect table settings that would make Martha Stewart envious. Those are simply things to do—moments, not memories. Connection and gratitude are experienced because of relationships, not bows and beautiful wrapping.
The real magic of the holidays is when we are surrounded with people who make us feel more love, less stress.  Those who truly care about us won't care if our tree doesn't look professionally decorated or if our DIY projects looks nothing like it did on Pinterest. We set ourselves and each other up for disappointment by expecting everything to be picture perfect.
Pause and slow down your expectations. Be realistic.  Adjust accordingly.  Letting go of perfect means grabbing ahold of all that's good and releasing all that stresses us out.
No. Is a complete sentence. 
There is nothing wrong with making it the season of choosing what you want to do. Be picky.  Instead of feeling obligated to go to every party, gathering, luncheon, cookie exchange, blah blah blah… go to the ones you want to. It's that simple. Saying "yes" when we mean "no" is a recipe for overwhelm, agitation and exhaustion. Politely decline the invitations you wish to skip and enjoy the ones you want to attend.
It's also okay to say no to dieting, sending Christmas cards, work parties that turn into drunk fests, Secret Santa's, making gingerbread houses, handing out mason jars filled with lentils or brownie mix, and hosting everyone at your house– because you do such a good job of making it seem so easy, even though you know it's draining and exhausting. Repeat after me, No.
Reflect on what you cherish most about the holidays whether it's watching old holiday movies, baking, tree decorating, caroling, religious observances, seeing family and friends, supporting a charitable cause, or just relaxing. Do whatever fills your heart with the spirit of the season. When you determine what your priorities are, you can turn down the less important things and concentrate only on the things that bring you happiness and joy. It's so much easier saying "no" when you know what you are saying "yes" to.
An empty lantern provides no light.
Do you enjoy bubble baths? Walking your dog? Staying in your jammies all day? Binge watching Netflix? Cuddling up with a cup of tea and a great book? Eggnog (blah!)?  Shopping? Hot yoga? Making a pot of homemade soup and sharing it with others… or keeping it all to yourself and eating it for three days? Getting a killer pedicure? Fresh sheets?  Time alone?
Everyone needs to take care of themselves, but mom's need to remember this the most—especially during the holiday season. Self-care is the greatest gift a mom can give her family.  The only way we, as moms, can give them our best is if we take care of ourselves  (flight attendant: "put your mask on first"). Remind yourself that you deserve to enjoy the holidays just as much as your family does, and no one enjoys it when they are bone tired and dragging. Delegate jobs. Let go of all the "shoulds". Do less, be more. When we are calm and centered, we are better partners, moms, friends.   At the top of your "To Do" list be sure to add take care of yourself, take time to re-charge and just breathe.
Don't try and re-create old traditions if situations are new.
I married an Italian. I swear his mother came out of the womb making stuffed macaroni and lasagna.  Kathy could flat out cook.  Everything she made was delicious and the exact opposite of what I had grown up with.  My family's dinner bell was the smoke alarm and we often prayed after the meal, not before it.
My mother-in-law worked magic in the kitchen.  Her favorite holiday was Christmas Eve. She would cook non-stop for days before the feast and kindly included my family, who had never tasted food so good. Not only did she fill our bellies, but she filled our hearts with love and gratitude for time together.
The year she died I took it upon myself to get out her recipe book and re-create all the delicious treats she served up.  Try as I may, I kept failing. Nothing tasted as good as what I remembered because sometimes, magic can't be copied  . I was devastated and felt like a complete failure.
One afternoon my sweet husband came home and found me sobbing in the kitchen. After tasting the latest epic failure, he reminded me that change is okay.  He shared that while he didn't need me to cook like his mom (not even possible), he did need to feel loved and supported by me and that we would make our own new traditions.  He assured me that "different" didn't mean bad.
That year we shared Christmas Eve with another family and have continued to do so since.  It has been wonderful to be welcomed into their traditions, their home and their holiday celebrations year after year.  My kids look forward to Christmas Eve and we were blessed with a new tradition to help us feel appreciation and gratitude for those around us.
Many people must face their grief during the holidays and it sucks.  Whether the loss is due to divorce, death, breakup, relationship discord, job change, moving or are dealing with an illness, it inevitably brings up loss and sadness.  This is the season of constant reminders that something is different, and things have changed.
Give yourself permission to do something new or adapt your old tradition to fit with what you need now.  Be okay with breaking tradition to offer yourself peace or comfort.  Step away if you need to and set boundaries that feel right.  Letting go of tradition doesn't mean you are letting go of good memories, it just means you are re-creating new ones.
Think outside of the box.
The holidays are not about gifts but rather about giving. Giving of our time, our appreciation, our gratitude, and our love. The best gifts are not material ones, they are things like showing kindness, serving others, forgiving, and creating loving memories.  It is less about the present and more about being present.
Don't overspend because you think it makes you look better or will bring happiness.  Over spending only brings a bigger bill at the start of the new year and lots of unneeded stress. Instead, wrap your friends and family with love, not paper.  Find laughter every day.  Let them know why you care. Play a game.  Give a hug.  Write them a letter.  Be sure to count your blessings and doing less stressing. The best gifts aren't found under the tree, the best gifts are found within the heart.
Sharing the holidays with your family or friends is a good time for reflection.  Pause. Breathe.  Slow down. Find a reason to laugh. Rest. Enjoy the days ahead. Remember to reflect on the real reason for the season.  Focus on what you do have, not what you don't. For all that is bad in the world, there is so much more good to be grateful for and so many blessings to count every day.  Be grateful for small things, big things and everything in between.