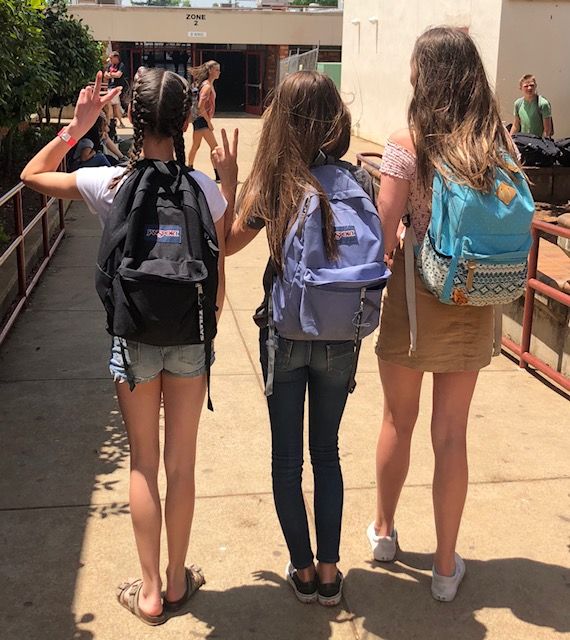 Dear Baby Girl,
You did it. We did it.  Thank God it's over. We survived Middle School. Yes, I know I didn't technically go to school with you, but I walked beside you for the whole crazy journey, so I hope you humor me and let me call this a "We" triumph.  Coming out alive and in one piece, for both of us, is a victory.
Starting Middle School with a girl was uncharted territory. Your older brothers went through it but let's be honest, (sadly) Middle School for girls is so different than Middle School for boys.  I feel like Middle School for your brothers was like an exciting Alaskan adventure.  There were moments where they walked near dangers or crevices and could have fallen in, but they thankfully they didn't. They forged forward, climbing big mountains through slippery slopes of snow and ice, and yet still able to stop see the amazing sights around them.  They laughed, fought, teased each other and changed friendships but it seemed normal and part of the process. They left Middle School and I was scared for the unknown that awaited them in High School.
Middle School for you was more like a long, enduring, trek in the desert… on an island.  Think Lord of the Flies meets Mad Max: Fury Road. There were beautiful moments, agonizing moments, growing moments and uncomfortable moments. There were flashes where everything appeared so smooth and easy, but also painful times that were like mirages—hard to grasp a hold of and often questioning "Did that just really happen?"  You tolerated the unpredictable climate and persisted despite getting pierced and poked by the many cactuses around you.  Truth be told, you were a cactus yourself at times and you learned that words are weapons and social media is a breeding ground for misinterpretation.  Side note: I do see you as more of a bright and cheery sunflower though than a cactus.  You were thirsty to find good friends (you did!) and plodded through the process, eager to be done.  It wasn't easy and yet, you never stopped putting one foot in front of the other.  Now that you are leaving Middle School, I'm excited for all that awaits you in High School and hopeful that what lies ahead will be a welcomed change.
One of the beautiful things about Middle School was watching you learn valuable life lessons, as painful as it was at times.  You learned that cute girl can be very ugly, and beauty isn't about having a pretty face, it's about having a pretty heart.  You learned that everyone makes mistakes and none of us, including you, are perfect. You learned what mean looks like and more important, what it feels like.  You learned that we all say things we wish we could take back.  You learned that boys should never come between girls and no guy is ever worth it losing a friend for. You learned that forgiveness feels so much better than anger. You learned that tone is often the most important factor in a conversation. You learned (and I know you hated it) that anytime you told me about drama, I would ask "What role did you play?" You learned that everyone, including yourself, has bad days and you never know what someone else is going through.  You learned that eye rolls and door slams are not allowed in our house. You learned that you are so much stronger than you ever thought you were.  You learned that if someone doesn't like you, it's their loss. Move on. You learned that you are fun, creative, and full of energy and you like people who are the same.  You learned that girls who try to act older than they are miss the fun of still being a kid.  You learned that no matter what happens, your family always has your back.
So, I guess Middle School wasn't all that bad if you learned all those lessons.  Perhaps Middle School just teaches all the things NOT to do in High School, so the next four years can be a better experience. Perhaps it is there to teach us that if we survive Middle School, we can survive anything.  Perhaps Middle School teaches us that if you can't say something nice, don't say anything at all…and don't write it on Snapchat.  Perhaps Middle School teaches us that setting boundaries isn't just for adults. Perhaps Middle School teaches us that Axe spray doesn't compare to the clean smell of soap and a real shower.  Perhaps Middle School teaches us that dreams don't work unless you do.  Perhaps Middle school was better than we thought? Okay, just kidding.
You are now moving to the next chapter and it causes me a great mix of emotions. You are no longer my little girl, you are slowly becoming a young woman.  I know how fast the next four years will go and I'm afraid to blink.  I still find myself wanting to buy you shirts with glitter and unicorns or cute dolls outfits from American Girl.  I still want to think you are playing with my make-up instead of borrowing it.  I still want to lay next to you in bed because you need me to help you fall asleep and because I long to hear that sweet voice whisper "Love you more" as you are closing your eyes.  I want to soak up all the time I can with you and yet I know, you will want to soak up all the time you can with your friends.  I am prepared for that.  I'm sure we will have a lot of bumps in the road but it's only because I'm holding on and you're letting go.   I know life is about change, but some changes hurt more than others.
The next four years will fly by and sooner than I wish, I will launch you out into the world. I know you will be so much more prepared for that moment than I will be.  Please know that whatever comes your way in the days ahead, you are never alone.  I will always be your cheerleader, even if you tell me not to be loud during your games. I will always have your back, even when you make a mistake.   I will always remind you that kindness wins every time, even if someone hurts your feelings.  I will always encourage you to be brave, even if you fail.  I will always tell you to be true to who you are, even if it's not easy. I will always tell you to stand out, even if you want to fit in.  I will always love you, even if we disagree. I will always be your Mommy, even though you are bigger and taller than I am. I will always be your rainbow at the end of the storm.
So, here's to the beginning of a new stage. Enjoy this moment precious daughter. You did it.  You are on the brink of learning and experiencing so much and I'm so excited for the person you are becoming.  One final request, please put your phone down long enough to let me tell you how proud of you we are.  You are mighty, and you are strong. You are funny, and you are smart. You are creative, and you are fierce.  You are sassy, and you are spirited. You are witty and you are worthy.  Stay true to your values and morals and always, trust your gut.  Treat others the way you want to be treated and choose to see the good in people. Enjoy this stage in your life and stay silly, it makes life so much more tolerable. I hope your dreams stay big and your worries stay small. Anything you dream is possible.
I love you more than you can ever imagine.
MOM