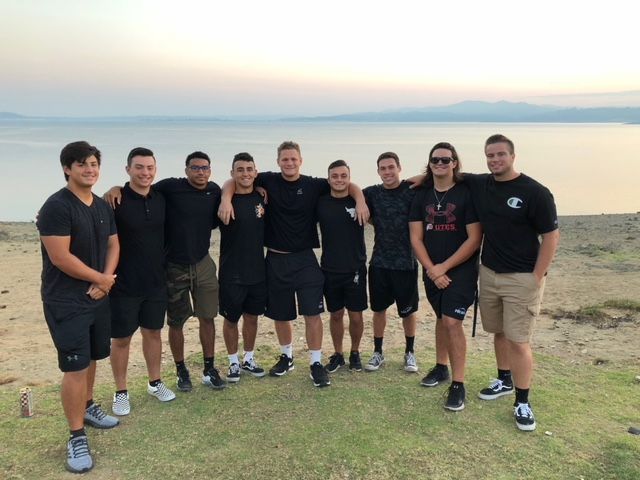 Senior Sunrise 2018.  The beginning of the end.
I'm not ready.
Senior year marks the firsts of all the lasts. Big changes are on the horizon. It's the last first day of required school.  As a parent, the start of elementary school was met with anticipation and excitement. New teacher, new class, new backpack.  At the start of senior year, they don't care so much about the teachers ("Who are the easy ones?" they ask), the best classes are judged by the ones with the most friends and new backpacks are only bought if they can't find the one from last year that is buried in their bedroom that resembles a war zone.
I'm not ready.
The boys, these friends, these brothers, are starting the last day of school in which they will know most of the kids in their class. They share a common bond, a thread that ties them together. They are a team, a crew, a squad.  They are the class of 2019.
I'm not ready.
They smile, we swallow hard. They laugh, we cry inside because we know what this day means.  They joke about the freshman, we wish they were freshmen again. They are focused on the future, we are focused on the past. They are letting go and we are holding on.
I'm not ready.
We know how fast this year will go because we know how fast the last 12 years have gone.  We blinked, and they grew up.  We went to sleep holding and snuggling them in bed and woke up to find mini-adults who no longer need us the way they used to.  We still see messy faces, skinned knees, gap toothed smiles and bright-eyed kids full of wonder. We hold that image of them forever in our hearts because we want to remember them so young, so curious and so innocent. We know childhood is a short season and we cling the final days of this season we have treasured.
I'm not ready.
Senior portraits. Final Homecoming.  College applications.  Baby pictures in the yearbook.  FAFSA. Grad announcements.  Senior Ball.  Grad parties. Good-byes.
I'm not ready.
This year brings a lot of decisions.  Decisions that will take good friends away from each other and start new friendships in a new home. Decisions about new choices and futures.  Decisions about who to be and who to become.  Decisions about what makes them happy and what road will take them there. We parents have become traveling companions, no longer navigating their journey but walking beside them instead.
I'm not ready.
Senior year represents more freedom. We see them as maturing and growing so we loosen the reigns and see what happens. We hope the roots we have given them direct their moral compass and we watch them prepare to launch. We pray we have given them strong wings to fly but that they still come back to our nest when they need love or support. We hope that wherever life takes them, they can always find their way home.
I'm not ready.
I feel as if I'm reading an amazing book that I never want to finish.  It has captivated me from page one. It's a book that I have loved and never wanted to put down. And yet, I know there is a closure, an end awaiting me.  If I flip to the back, I will miss all the beauty that lies within the pages. I will miss understanding why the story ended the way it did. I will miss the feelings that brought me to where I am on the final page when I am wiping the tears, be them happy or sad. I need to be patient, savor every word, let the story sink in and let the story unfold.  Graduation is not just the end of a chapter, it's the end of a book. But thank heavens, life has sequels.
I'm not ready, but sadly, I don't have a choice.  Regardless of what I want, life has its own agenda.
So, for now I will lean into whatever chapter we are on, not racing to see what lies at the end of the book. I will embrace the story and know that the great author has a plan and one day it will all make sense.  I will see each day as a new page full of adventures to tell or lessons to learn.  I will embrace the beginning, middle and end of this tale about coming of age and letting go.  I will open my home, my kitchen and my heart to these characters I have grown to love.   I will laugh with them and let them laugh at me.  I will talk with them and let each friend tell their own unique story.  I will let this year have all the things a good book has: mystery, drama, comedy, love, surprise, disappointment and growth.  I will make this book a favorite, a keeper, my own personal best seller.
Senior year: I will learn from you and I will treasure you.  I will welcome these "lasts" and enjoy seeing the smiles on the faces as they make these lifelong memories. I will not count down the days but make the days count. I will pause long enough to reflect on what a beautiful book this is and how much I have loved every minute of this journey together.  I will love all that this story has brought to my life.
Ready or not, here it comes.