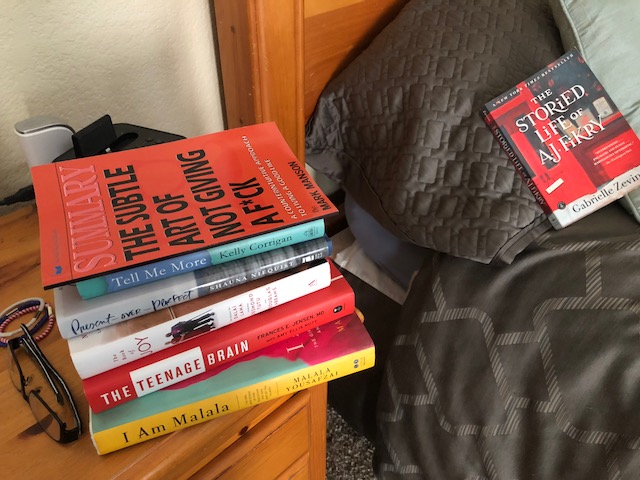 As someone who spent her youth moving from base to base, living in different countries or states, attending six different schools before seventh grade, not a lot in my life was constant. Change was frequent, and a new adventure was around every corner, especially if I was traveling on Little Brown (see past blog to get a visual of that beauty).  But there was always one constant at each new place we were stationed—one place I could count on, one place I knew I would like- regardless of where we lived, one place I always looked forward to seeing – the library.  Yep, I'm a book worm, an avid reader, a chapter chick.  I like big books and I can not lie.
I love to read.  It's in my DNA and it's a large part of who I am. Put me on a warm beach with a good book and I'm happy. Add my husband and a fruity cocktail with an umbrella and I'm in heaven.  I'm a low maintenance girl with high standards.
When it comes to books, I'm old school. I like a book, an actual physical-hold-in-my-hand print book.  I want to see a cover.  I want to turn the page. I want to flip back if I don't understand something. I want to dog-ear the page so I know where I left off. I'm well aware of bookmarkers but I told you, I'm old school. I want print over pixel. I want to highlight sentences that speak to me and keep certain books that I can't dare part with. I want the tactile experience of reading a book—I've even been known to smell a book or two. I don't judge Kindle lovers—good for them—it's just not me.
There was a period in my life when I had three little ones under the age of six.  Life was hectic, busy, and exhausting.  I had very little time to read and it felt like something was missing in my life. Going on vacation meant I would bring books I had been saving up and dive in.  I would try to cram five or six books in a one-week period—sometimes reading in the bathroom on the floor (with the shower on) or waking up extra early and sitting under the window curtain where the light came in just to finish a book.  I might go weeks without reading a book ("The Very Hungry Caterpillar" and "If You Give a Moose a Muffin" don't count) because whenever I sat down to finally read, I would fall asleep. What once would take me three days to read suddenly took three or four months to finish. There was, and will always be, a stack of books next to my bed. I know it looks "cluttery" but I can't help myself.
Currently, I'm reading "The Storied Life of A.J Fikry".  I was immediately hooked and am almost done.  It's the story of a grieving man who owns a quirky little bookstore on Alice Island off the coast of Massachusetts.  He started out depressed, cranky, and pessimistic but slowly became endearing, amusing, and loveable. It is about loss, love, and second chances.   I take my book wherever I go in case I can steal a few minutes to read another chapter.  At one-point A.J.  Fikry says "You know everything you need to about a person from the answer to the question, What's your favorite book?"
This made me pause and reflect. What was my favorite book? It seems to be a question people don't ask anymore.  Kids talk about their favorite you-tube video's or celebrities. Teenagers talk about their favorite video games, sports teams, or apps. Adults ask about recent movies, favorite restaurants or favorite shows on Netflix or Hulu.  Rarely anymore do people ask, "What is your favorite book?".  It seems to be a forgotten question that speaks volumes.
I tried to narrow it down but just one book is impossible. That's like asking a mom to name her favorite child.  My list tells a lot about me. I'm not a fan of classics like "Moby Dick", "1984" or "The Odyssey". Maybe I'm not as deep as I like to think I am. I like books about relationships, life stories, the connection of people. I love books about strong women.   I've read "Of Mice and Men" and "Animal Farm", but they wouldn't be on my top 50 lists.  I could never finish "Little Women" as hard as I tried.  "Lord of the Flies" influenced my decision to have Lasik eye surgery (Thanks Piggy!) and "The Diary of a Young Girl" by Anne Frank made me reflect on the gift of freedom.  "The Battle Hymn of the Tiger Mom" made me conscious of my parenting and "The Joy Luck Club" made me appreciate my mother.  My daughter and I cried together reading "Charlotte's Web" and recently we both had the same emotional reaction reading "Wonder" and "A Dog's Purpose".  My middle son and I spent one summer reading Laurie Halse Anderson's amazing book "Chains" and the sequel "Forge" together. My older son and I read "The Hunger Games" together (one of only two book series he will tell you he ever really loved) despite the fact he never shared the same love of reading that I do.  Some of my favorite moments as a mom were reading bed-time stories to my kids. And even after they were able to read for themselves, I continued to read to them.
My list of all-time favorite books is (in no particular order):
To Kill a Mockingbird
The Outsiders
Molokai
The Red Tent
The Help
Angela's Ashes
The Kite Runner
The Gifts of Imperfection
Wild
The Color Purple
The Girls of Ames
Night
The Secret Lives of Bees
Reading is magical to me. It's an escape, a journey, another adventure for the young-me who found good books to be good friends growing up.  I don't think it's a coincidence that one of my best friends now is a librarian.  I have lost myself in books and I have found myself in books.  Reading is just a part of my life and let's be honest, books are always better than the movie.
Let's bring back the question: What is your favorite book? What is one you can't part with?  What book changed your life? What book might summarize you?