What We Learned Working A High School Dance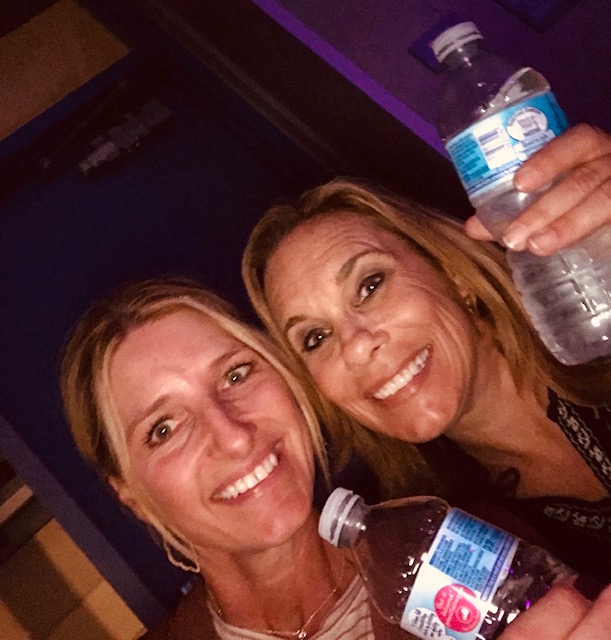 One night can teach a lot.
Because our daughters are in leadership, my dear friend Lisa and I volunteered this past weekend to work the high school homecoming dance selling waters. We were the hydration station and we had a prime spot to soak in the night. We saw it all, heard it all and loved it all.  We chatted with the kids, asked them about the music, and learned a little bit about some kids we had never met before. By the end of the night, we called ourselves the Water Warriors because we tackled the problem of hot sweaty dancers, one cold bottle at a time.
Here is what we can report back to our fellow parents
School dances and school spirit are alive and well.
The excitement and the energy in the room was infectious. It was so wonderful to see so many different body types, personality types, and ethnicities represented. Some students showed up fancy and dressed to the nines and others dressed more casual and for comfort. The diversity was truly beautiful.
Cash is obsolete, change is non-existent.  Not one kid, and there were a lot at the dance, gave us change to pay for the $1 water. Our cashbox didn't have a single quarter or dime at the end of the night.  Instead, we had countless requests to see if we took credit cards (for a buck, go figure!) and kids who asked if they could Venmo us the dollar. Currency is on the way out.
Regardless of their age, kids need to be affirmed daily.  We often heap praise on little kids but are quick to criticize our hormonal teenagers.  It is easy to compliment them when they are all dressed up but what they really need to hear is that they look amazing and beautiful without a fancy dress or spiffy tie on.  We made it a point to tell so many students what we noticed about them- "You have such a good smile" or "We can tell you have style" or simply "You look beautiful tonight".  Their eyes lit up and they thanked us, genuinely thanked us.  When we told one girl she was looked so elegant and classy, she told us we had made her night. Kind words to a teenager goes a long way and they thanked us for making them feel special.
Quirky is in and being different seems to be cool. Pink suits, velvet smoking jackets, pink or blue hair, long and short dresses, so many different styles.  Our teenagers are unique, and parents often make the mistake of trying to push their kids to be like the norm instead of celebrating them for being different. Let your teenager find their way and be themselves. Celebrate the things that make them unique and different.
Freshman students are still kids, and that's not a bad thing. Maturity in high school is so broad.  Some students still act like middle schoolers and some teens seem ready to work on Wall Street, own a home and drive a mini-van.  Wherever they are at, it's okay. Let them mature at their own pace and don't force them to grow up. Adolescence is a short transitional phase between being a child and being an adult, let them enjoy it.
Today's girls are smarter than we were. They know heels and dancing don't mix so most girls walk in and immediately take their shoes off.  Buying new shoes for a high school dance is a waste of money.
Freshman are excited for new beginnings and the future and seniors are reflective of the past.  They know senior year is about the lasts and they know they will miss nights like football games and school dances, even if they leave the dance early.  Getting ready and taking pictures with their friends is just as important to them as the actual dance.
Your own teenager might tell you not to ask a lot of questions, but please ask away.  It's our job. Talk to your kid and talk to their friends, and pause long enough to listen.  They want to be seen, they want to be heard and they want to feel like they belong.  Just a simple "How is your night going?" brought us full detailed answers from kids we had never met.  They were funny, engaging and honest.  Talking with a teenager can be enlightening and insightful if you just give them a chance.
This the upcoming generation is going to be fine. Teenagers get a bum rap. We met some of the nicest young people.  We had kids thanking us for helping at the dance, asking us how our night was going, and showing interest in who we were. We watched them offer to pay for each other's waters if someone was out of money and saw politeness and kindness firsthand. They were generous and supportive of one another. One young man approached us and bought 20 waters to go hand out to kids who he thought looked thirsty. Another boy told us he was out of money, but a friend was crying, and he wanted to bring her a water. We gladly comped his water (and so many others).  The caring and sharing we observed was heartwarming.
As water-moms for the night, we had the gift of being able to be present and to see each person who came up to buy a drink. We had the opportunity to tell them that they looked amazing, they had beautiful eyes or that we hoped they were having fun. We had the chance to ask their name, what kind of music they liked or how things were going.  We had repeat customers who just came back to report to us how the night was unfolding because they knew we were interested in what they had to say. We offered a safe spot to some kids who just came and sat with us to check-in or take a break.  We got hugs and we got high fives. They came up to fill up on water and our mission was to fill them up with love.
The thank you's we got all night should behave reversed- we were the appreciative ones. We were the lucky ones. We were the ones who enjoyed being a part of it all. We were the ones who felt blessed that they let us share in this high school memory. We were the ones who left exhausted but full.  We were the ones with happy hearts and sore feet.
We were so thankful that they let two old gals hang with them for one evening.  And even though we never heard an Eagles song, a beat by Janet Jackson, or a powerful ballad from Journey, we still enjoyed every minute of the night.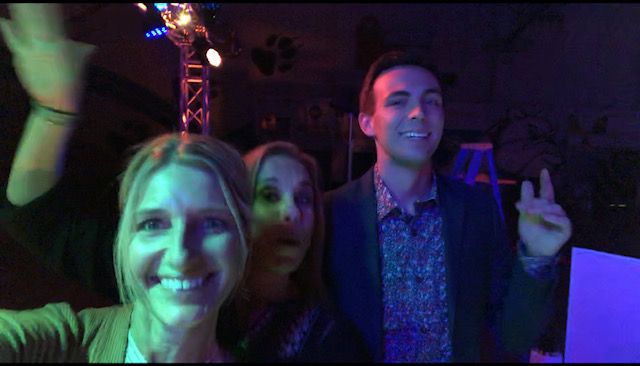 (The picture that mortified my daughter… us dancing with the DJ)