Her Brain Might Forget This Day But I Know Her Heart Won't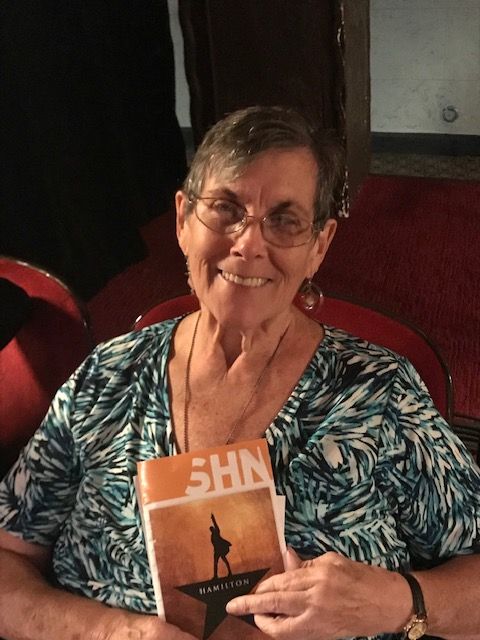 My mom is in a hard season of life. Her memory is no longer what it used to be. She knows what is happening and it's hard for her.  A retired schoolteacher and principal, she's a smart and well-read lady.  She forever thirsted for more knowledge and always wanted to learn the latest and greatest things her grandkids were into.  While I still can't get her to leave her cell phone ON (especially right after she calls me), she works apps on her cell phone like Lyft and Uber like a champ because she likes her independence.  She is a senior citizen, but she is trying to be a progressive one.
Mom always loved the theater. As a child, she introduced me to it at a young age and to this day, I love going to see musical productions. As a young girl, I saw the play Annie over 24 times, in all different cities, because my mother knew how much I loved the music and knew every song, word for word. She instilled the same love of theater in my daughter, taking her to see any and every show possible that she thought Katie would like.  Her joy came from watching us enjoy the show and it was more about the experience and less about the actual show. 
This past June, my daughter and I along with her best friend and her mom, planned a girl's trip to San Francisco that included seeing the show "Hamilton".  The girls knew every song, word for word, just like I did with Annie.  Funny how generations change, but the silly things people do stay the same. We knew how much the girls were dying to see Hamilton, so we bought the tickets in November as Christmas gifts.  Days before we were set to go, my mom casually mentioned how much she wanted to see that play as well and asked how she could get a ticket. By that point the tickets for our June performance were sold out so sadly, she was unable to join us.
The show was incredible. Surpassed all expectations.  Truly amazing. I knew my mom had to see it.
My sweet mother never wants anything for her birthday. "Lord knows I don't need anything" she tells my older brother and I every year so this year we gave her the gift of time.  The day I got home from San Francisco I schemed with my brother to surprise mom for her birthday and take her to see Hamilton.  We called it "Moms' day out with her kids". It would be tricky logistic wise but we would figure it out. She wanted to see it, so we wanted to make her wish come true.  Her birthday was a month before I could acquire tickets, so we had her open a present that just contained the tickets. She was like a kid at Christmas, counting the days until her big day.
I told my mom I would pick her up at 9am for an 1 pm show but the night before she called to suggest I grab her 30 minutes earlier… just in case.  While she can say it was because traffic is unpredictable or she didn't want to be late for the show, the truth is I know she just wanted more time with her kids.  And as a mom with two kids away at college, I get it and I don't blame her for trying to extend the day.
As our kids get older, they get busier.  Time together gets difficult, not because we don't love each other but because the logistics of every-day life gets in the way.  And because I am self-employed, a day off means I don't get paid. No work, no pay.  Its' ironic though that I made no money that day but somehow, I feel richer.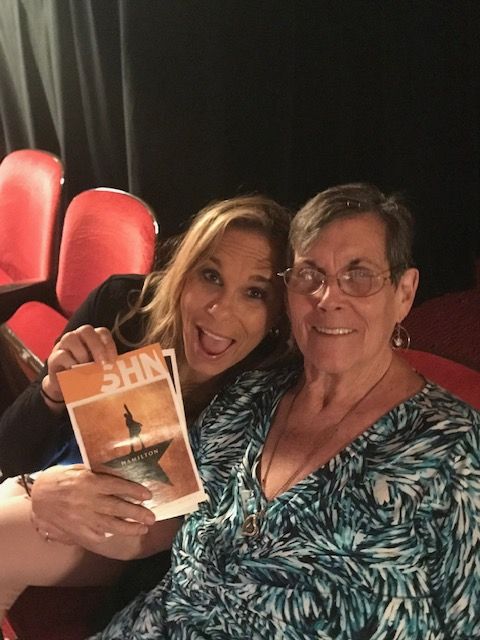 My mom beamed ear to ear.  She could not have been happier. She soaked it all up, even sitting in traffic. On the two-hour drive to San Francisco, she told me stories about her best friend in high school (Sally), memories of growing up in Laguna Beach when it was just an artist town and about the nice lady who lived on her childhood street (Mrs. Lyle).  She remembered old songs she loved (Que Sera, Sera)and told me stories of her college escapades (where they stored alcohol they snuck into the dorms). Her memory was spot-on and she was happy to tell me about "the good old days".
Before the show we went to lunch, just the three of us. It hit me how rare that moment was. Usually, we have our families around, lots of mouths to feed and lots of people talking. Just having the three of us felt sacred and special and I knew how blessed my mom was feeling because I was feeling the exact same.
The Orpheum theatre is old, built-in 1926 so there are no elevators.  We were on the mezzanine level so that meant we had some stairs to climb to get to our seats. My mom was a trooper, not a single complaint with all the stairs. She grabbed my brothers' hand and took every step with confidence and pride, like a boss.  Nothing was going to dampen her day.
The play was amazing, even better than the first time if possible.  I kept looking at my mom, sandwiched between the two people she loves the most on this earth, and knowing how genuinely happy she was.  Like my mom used to feel, it was more about the experience this time than it was about the play. And I while knowing her brain might forget this day, I know her heart won't.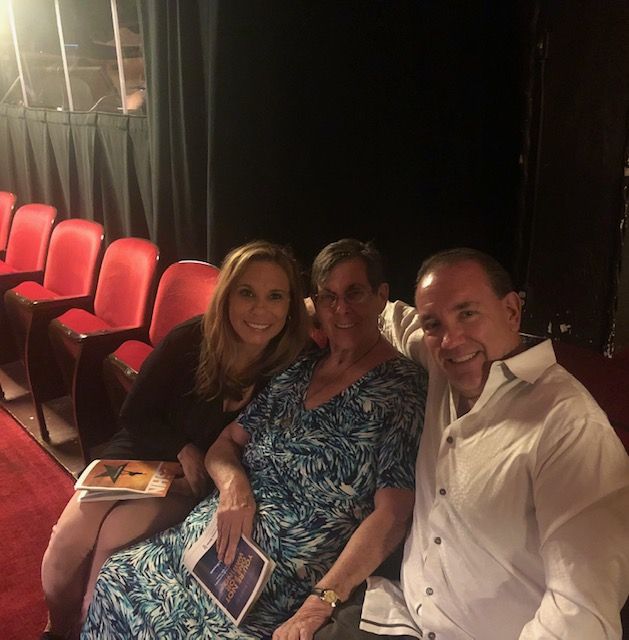 One of the best ways to measure what is important to a person is to look at what they treasure most.  For my mom it's easy. She treasures her children.  Where your treasure is, there will your heart be also. Time is a concrete expression of love that people can measure.  It says, "I value you and you matter to me". I hope my mom felt loved all day and I hope she knows she matters to us, even as she feels like she is slipping away with her memory. We treasure her and will walk this scary journey holding her hand every step of the way.
Time is a beautiful gift we are given in life. It is flying past us whether we like it or not, and if we don't pause long enough to take a look or make a memory, it will be gone. The time we set aside that day for my mom will never be replaced. It is etched forever in our hearts. It is a tender and complex dance watching your parents age. It is unsettling and yet, it is inevitable. All we can do it take their hand and tell them it will be okay. We will protect them like they protected us.
The next day she left me a voicemail.
"Hi Kelly, this is mom. I just wanted to say thank you for yesterday and tell you that I hope your day today isn't too busy. Yesterday was perfect, just perfect. Okay, love you, honey. Bye Bye".
Que Sera Sera.