It's Time to Update Our Vows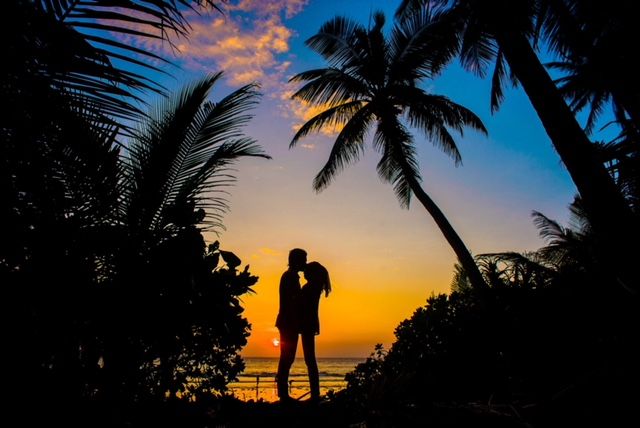 Happy Anniversary Honey,
I can't believe it was so many moons ago that you stood in front of me and we vowed that for better or worse, for richer or poorer, in sickness and in health, we would stand by each other and tackle life together. We were kids back then, young and blissfully in love, unaware of all that it took to not only be married but to stay married. I naively thought love alone would carry us through, solve all our problems, and make life easy. But we now know that love is a verb, not a noun. Love without action merely a word. Love is more than just three words at bedtime. It's more than just a piece of metal your finger.  It's more than just a yearly Valentine's card. Love is more than just a feeling. Love is a conscious behavior and an unconditional commitment to an imperfect person.
I'm realizing now that we had it all wrong. Our vows were flawed. We stood in front of our family and friends and we said "I Do" when what we should have said was "I Will". 
"I Do" is present tense; "I Will" speaks to what is ahead. "I Will" acknowledges that we need to be mindful and present in our marriage if it is weather the tough days. "I Will" means I can do it, regardless of what life throws at us. "I Do" is a declaration of a day; "I Will" is a promise for the future.
So, I'm updating our vows, because one set of vows can't cover a lifetime of growing and changing. I'm renewing my words to you because "for better or worse" doesn't really capture what our marriage is about. And because "for richer or poorer" has nothing to do with my commitment to you. I'm changing "In sickness and in health" because sickness for a man is way different than sickness for a woman. My new vows reflect what it takes to stay married past the honeymoon. My new vows reflect what I think our love is about and what makes US work.
I WILL love you regardless of what noises or smells come out of your body. I WILL look past the dutch ovens and be grateful you at least warn me not to lift the covers.
I WILL not get annoyed with you when you whisper questions to me during the best part of a movie.
I WILL compromise on the temperature in our house, even though you try to freeze me out. I WILL put on extra socks and sweatshirts so you stay comfortable.
I WILL leave you the last piece of bread in the morning for toast because I know a hangry you is not your best self.
I WILL remind you that every now and then a woman needs a mushy card to assure her she is loved.
I WILL share my french fries with you when you are finished with your food and still hungry, even though you know I love my fries.
I WILL forgive you when I fall in the toilet in the middle of the night because you "forgot" to put the seat down.
I WILL be grateful you always give me the bigger suitcase when we travel.
I WILL share the covers with you and make sure to leave some hot water for you so you can take a shower…a very quick shower.
I WILL never post a picture of us that you don't like, even if I look fabulous in it. I WILL lovingly crop you out.
I WILL respect your choice of music in the car when you are driving, even if it sucks.
I WILL be your spell checker and correct you're grammar on emails you right. (haha—just checking to see if you caught those).
I WILL always sit next to you on an airplane even though you hog the armrest the entire flight.
I WILL not watch the next episode without you of whatever show we are watching together. (Does the first 10 minutes count?)
I WILL forgive you for being on your phone when we are out for a romantic dinner, even when you fib and say you're just checking on the kids.
I WILL tell you that you are hot and sexy… even if you have a cold and look like shit.
I WILL not attempt to have a deep and meaningful conversation with you when you are watching football.
I WILL remind our children that they have the best Dad imaginable… even though they already know and believe this.
I WILL put your dishes from the sink to the dishwasher, even when you claim a barely used plate or butter knife is a "soaker".
I WILL not expect you to ever fully understand why I need so many shoes or purses. And I WILL be grateful you never check my trunk to see what shopping bags I have hidden in there.
I WILL listen to your advice and occasionally take it.
I WILL never keep score, even if we both know I am winning.
I WILL make sure you have your lucky shirt on game days and bring Pepto in case your nerves get the best of you.
I WILL let you know, with kind words, when you make a slight error in fashion judgment. I WILL appreciate that same black polo you wear with everything.
I WILL support and defend you as a driver, even if you speed and almost kill us.
I WILL always be happy to see your name light up on my screen and I WILL never send you right to voicemail.
I WILL always be your biggest cheerleader, and I'll even wear the costume if it spices things up for you.
I WILL love you fiercely, and you will always know I got your back.
Thank you for being my man, my partner, my best friend. Doing life together isn't always easy, but it's definitely worth it. Even though I would still say "I Do", more importantly, I still say "I Will".
I WILL continue to be by your side, growing and learning together.  I WILL laugh with you, cry with you and continue to be faithful to you.  I WILL go anywhere as long as you are there. I WILL embrace our adventures together and I WILL continue to choose you, every day, to be my soulmate.
You are my Ride or Die, forever.
**Knowing what you know now, what would you change about your wedding vows?