Thank you Teachers, You Made a Difference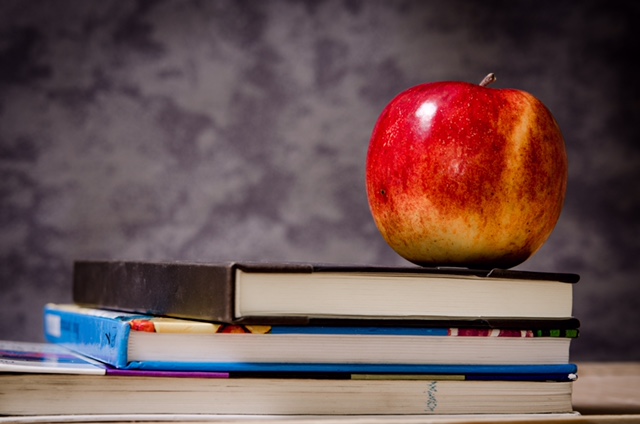 November is the month for being thankful, showing gratitude and having reflection on our lives and our blessings. We seem to thank and appreciate everyone and everything, so much that genuine appreciation sometimes gets lost. I laugh during the year when I see things like National Squirrel Appreciation Day (they freak me out- rodents with bushy tails), National Work Naked Day (not making that up), National Clean Up Your Room Day (please tell my kids), National Buy Nothing Day (please don't tell my husband) and National French Fry Day (can I get an Amen).
Holidays are so simple, we can even make up our own–be our own Hallmark. Start a trend. Pave a path. Create a wave.
I am proclaiming November 16 to be National Thank My Old Teachers Day A day where we reflect with gratitude on the people who have gotten us to where we are now- the unsung heroes in our lives. Teachers are more than just educators. They are counselors, motivators, mentors, and friends. Some teachers are more like parents and good teachers stay with you forever, long after your days in the classroom end.
On MY national holiday, I want to thank the important people who have made footprints in my life:
Thank you, Sue Finthel, my 1st-grade teacher. You were the first to diagnose me with Dyslexia. Your ability to see my struggles and get me extra help changed the entire course of my education.
Thank you, Bob Mitchell, my 4th grade teacher. You were the 4th school I attended in 5 years because of my father's job in the military. I dreaded going to a new school that year and you made the transition so much easier by making me feel welcomed. You seemed to appreciate (or maybe just accept) that I was a chatterbox and never tried to squash my spirit. You came along at the right time in my life.
Thank you, Marge Heineke, my 8th grade Sex Education teacher. You made learning about the birds and the bees a cool thing. Your comfortableness with sexuality was so refreshing and you took the shame and humiliation out of being in puberty. Your ability to think on the spot and handle any awkward questions people put in the special "question box" was incredible. You were open to talking about all subjects and I learned so much about life in your class.
Thank you, Al Newman, my 8th grade World History teacher. You gave the hardest tests because you were so darn smart. You were cultured, worldly, and sophisticated, not to mention had the best handwriting I have ever seen. Thank you for sending me postcards through high school of all the crazy and interesting places you visited. I felt honored that you continued to remember me and genuinely appreciated your thoughtful gestures. Getting a postcard from you was always a welcomed surprise.
Thank you, Bob Clougher, my 8th grade metal shop teacher. Thank you for trusting me with a blow torch and making fun of me daily. You took a girlie-girl and turned her into a welder (well…. kinda). You were creative, inspiring and such a hands-on teacher (not in the creepy kind of way). You were rough on the outside but such a softy inside. I still have the ashtray I made in your class–it's great for spare change.
Thank you Ed Sugrue, my 8th grade math teacher. You started every day with the classic line, "Let's try a little assignment". For a non-math minded person like me, you showed patience and never seemed frustrated with my lack of ability to grasp concepts quickly. You came in early, stayed late and opened your classroom at lunch to help us. Your dry sense of humor (and I mean so dry it makes me thirsty just thinking about it) was off the charts funny. I think of you anytime I hear the word "hypotenuse". When someone in our class asked you what that was, you said "an airplane bathroom" (get it… a high pot in use). Your corny jokes still put a smile on my face.
Thank you, Pat Scarlata, never a direct teacher but you taught at my middle school and were my best friend's mother. You were my "school mommy", always there if I forgot something or needed anything. Thank you for hugging me every day when I walked by your room and yes, I went out of my way to be sure I passed your classroom. Thank you also for taking eighteen middle school girls to your cabin for the weekend to celebrate your daughter's 13th birthday. That weekend was epic and will go down as one of the all-time best sleepovers ever, even after you announced in front of everyone that my stomach hurt because I had gas.
Thank you, Paul Scarlata, Pat's handsome Italian husband and also a teacher. You helped me make it through 10th grade English. You edited my papers, explained Shakespeare, and answered many late-night phone calls with grammar questions because there was no internet to look up the right verb usage. That paper I (wink wink) wrote on Macbeth was amazing, thanks to you! Thank you for treating me like your 4th daughter.
Thank you, Clarke Massey, my 10th grade Drivers Education Instructor. You get double points for having such a stressful job and teaching me to drive (a skill I still seem to be working on). Thank you for being extra creative and stacking three phone books for me to sit on so I could see over the hood of your big ass Drivers Ed car. Thank you for reminding us to keep our hands at 10 and 2 and for using your passenger side brake often. Thank you for teaching me to drive on the freeway, even after I panicked the first time and came to a complete stop on the on-ramp. The patience you showed when the police car behind us announced over the loudspeaker "Driver Education car, merge the freeway!!!" was appreciated. Thank you for being the first person to model being a responsible motorist. You were way ahead of the times and taught us about being a DD (Designated Driver) by taking us to lunch during our driving session, ordering a beer and telling us that if you weren't driving, it was all good. You gave me my first job and believed in me much more than I believed in myself. Thank you for letting me visit you in the hospital before you died and even though you couldn't speak, I know you knew I was there and how grateful I was for your presence in my life.
Thank you, Helen Koterlik, my 10th grade math teacher. You were the first teacher who acknowledged how hard it was to follow in my brainiac brother's footsteps. Thank you for that kindness and compassion. You told me to just be myself and not to compare myself to him or anyone else. You made a ripple effect in my life with those words.
Thank you Max Miller, my 10th grade PE teacher. Thank you for trusting me with your stylish brown Camaro to go pick up film from other football coaches. It was the coolest car I ever got to drive and such a welcomed change from my piece of crap '68 Dodge Dart. Thank you for letting me be your statistician and learn about the game of football. Who knew how important that skill would be to me today? You are a true character and can somehow make a bad joke funny or turn a bad day into a good one. Thank you for continuing to be a presence in my sons lives today.
Thank you, Dave Morton, my 10th grade Health teacher. You brought excitement to the classroom and our school and had a knack for telling it like it was, no BS. You lived the phrase "Fired Up". Thank you for treating me like a daughter and being a teacher who truly cared. Also, thanks for knocking my brother on his ass trying to teach him how to block for football. Little sister thanks you. Thank you for marrying such an amazing woman. Lynne's model of grace, class, support, and poise as a coach's wife is what I strive for today.
Thank you, Vince Guarna, my 11th grade College Prep English teacher. You were hands-down the hardest teacher I have ever had and, the best teacher I ever had. Thank you for giving me D's on so many papers and writing "Is there hope for you?" at the top of each paper and then finally, giving me a B+ (halleluiah!) and writing "Yes, there is hope!". You made me the writer I am today. Thank you for allowing me to come back in graduate school to explain Kafka's Metamorphosis and edit my thesis. I never outgrew your teaching, your friendship and your incredible knowledge. You had a huge impact on my life.
Thank you, Carl Cavallo, my 12th grade Know Your Auto Teacher. You were so patient with a class of senior girls dressed in bedazzled coveralls and teaching us how to do oil and brake changes. I'm sure you had a couple of cold ones after school because of our class. Thank you for making quasi-gear heads (not really) out of us and for giving us life skills we still can use today.
Thank you, Professor Rick Rigsby, my college Speech teacher. You turned a class I dreaded and avoided into a class I looked forward to every day. Somehow, my fear of public speaking (I still hate it today) was silenced during your class. Your energy, enthusiasm and insight made it one of my favorite college classes I ever had.
Thank you, Professor George Jackson, my college Psychology teacher. You were such a quirky fellow and beat to your own drum, right down to that big old Santa beard you rocked. And yet, it was so refreshing to be around someone so authentic–I admired your sense of freedom to be yourself. Your classes were interesting, educating, and inspiring. You loved being a teacher and we felt that every day as your students. You turned an interest in Psychology into my lifetime profession and passion.
I am the product of public education up until graduate school. Even though I didn't always have great teachers, even the not so good ones–who won't be named- were trying their best to make me a better person, including the old school nurse whose first response to everything from a bloody nose to a swollen ankle was "Are you pregnant?" I look back now and know she was asking out of care and concern for me, and (professionally speaking) because she was only rowing with one oar in the water. More often, I was blessed with amazing teachers and administrators who invested in us as students. They cared about our lives, our education, and our future.
My public high school was not privileged nor wealthy, but we had so much school spirit and pride. We were proud of where we came from, proud of each other and proud to represent our community. I believe this sense of unity, confidence, and pride began with our teachers and in the classroom.
I am grateful for all the teachers who poured into my life. Thank you for choosing to be a teacher, despite how little the pay is and the countless hours of putting others before yourself.Thank you for stretching my education beyond the walls of the school and making a difference in my life. Thank you for shaping my character, pointing me in the right direction and holding me accountable. Thank you for helping me see my strengths, reach my goals, and achieve my dreams. While you may have forgotten me, I will never forget you.
I encourage everyone to adopt their own National Thank My Old Teachers Day. Who would you thank? What impact did they have your life? Why are you the person you are today because of them? Teachers don't get paid enough for all they do but hearing from old students fills their heart and makes it all worth it.