The Ball is in Our Court America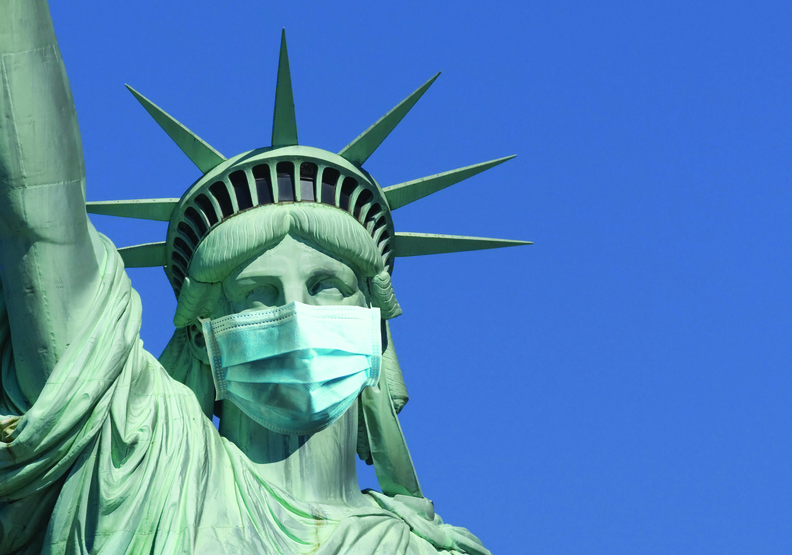 Dear America,
Our world is turned upside down. Two short months ago feels like a lifetime ago. Life "back then" was normal, easy, flowing. We were all just doing our thing. Waking up, getting the kids to school, going to work, hitting the gym on the way home, running by the grocery store to grab what we needed, making plans for the weekend, going out to the movies or to dinner, hanging out with friends and family. Wash, rinse, repeat.
And suddenly it all came to a screeching halt.
Never in my life could I have imagined what we are experiencing. It's uncharted, unprecedented, unknown and unbelievable. It has transcended all ages, and no one is immune to it or untouched by the effects of it. From the elderly who are forced to stay holed up within the confines of their home, to the many people who have lost their jobs, to the college kids who were prematurely forced to move back home with their parents, to the high school kids who might not get to gradaute with their childhood friends, everyone's life is altered. Little kids no longer get to play on playgrounds at lunch time and toddlers have lost the joy gained from running around being silly and free at the park. The ripple effect has altered our lives, changed how we connect, and affected all Americans, from sea to shining sea.
This pandemic we are facing can bring out the best in us or the worst. So far, we have seen both. We have seen stupidity and we have seen humanity. We have seen selfishness and we have seen community. We have seen people being inconsiderate and we have seen others being kind. We have seen corruption and we have seen goodness. We have seen people fighting over toilet paper, of all things (side note: I truly don't get it!), and we have seen people loving on their neighbors and handing out rolls of toilet paper. Who could have guessed how much we would learn about people from a roll of Charmin?
There must be a lesson in all of this. I can't believe it's happening without any reason or any take-aways. What are we going to learn from all the craziness that surrounds our world right now? Is this our wake-up call? What message can we take from all that is happening? How will this change who we are moving forward?
Some lessons seem so obvious, right in front of our face… if we just open our eyes. How thankful are we now for full refrigerators, with meat and eggs and plenty of paper towels to wipe up our messes? How much do we treasure teachers who spend all day with our kids, educating them, focusing and directing their time, opening their minds and planting seeds for life? How much do we respect health care workers who work on the front lines, assuring us when we are afraid of getting sick and taking care of us if it does happen? How grateful are we for warehouse and night shift people who work while we sleep to restock the barren shelves so we can have food and essentials? How much do we love and miss our community—our church, our gym, our book club, our co-workers who have become like family? How relieved are we to have things like Zoom, Facetime, or Google Hangouts to help keep us connected and for many of us, keep us working. How much will we appreciate a good hug hello from a friend instead of an elbow bump or a foot tap? How much do we miss a baseball game, or sporting event or just being able to cheer for our team? How much will we value time with our friends, sharing a meal or a glass a wine and a good laugh without sitting 6 feet apart? How often did we take for granted special events—graduations, proms, weddings? How much do we now appreciate a long walk, a bike ride or any time we can get outside for fresh air? The lessons are there, we just need to pause long enough to recognize them.
Before COVID-19 was a household name, I was guilty of being "so busy". Rushing around between work and family, trying to do it all and fit it all in. Racing from work to sports practices and not slowing down until late at night. I most definitely had a case of FOMO, saying yes to far too many things, not wanting to let people down or disappoint others. The price I paid was exhaustion and lack of time to do the things I really wanted, most which centered around spending time with my family.
Life gave me no option and hit the pause button. And you know what, it hasn't been all bad. My kids and I had a dance party, played Operation, Uno and good old-fashioned Spot It. We have a puzzle going on the dining room table, a giant word search on the wall we are collectively working on and sat together to watch movies. I don't think we've eaten together as much in the last two years as we have in the last two weeks. My daughter has baked, my husband cleaned the garage and my college aged sons have been playing catch in our front yard like they did when they were little boys. We built a make-shift gym in our garage and we're finding creative ways to stay healthy. We have slept in, woken up when our bodies were ready and made our dog very happy with lots of walks. I'm sure in a few weeks I might get restless but for now, I'm enjoying this forced down time. It's funny how during such an isolating time in our lives, I feel so connected to my family. One day when life resumes and my days get busy again, I will miss the space we have carved out together while we were "stuck at home".
How are we going to go forward America? Are we going to teach younger generations who are closely watching us how to effectively handle a crisis without panic? Are we going to model peace and calmness when faced with fear and adversity? Are we going to show respect to those who have our best interest and health in mind? Are we going to appreciate a new pace of life and time with those we love? Are we going to self-check, gut-check and life-check ourselves and our priorities? Are we going to love on service workers and be extra generous tippers when they are back to work because we know how much they have suffered and struggled? Are we going to help our elderly who need getting food and essentials right now? Are we going to give our teenagers extra hugs whether they ask for them or not because we know how unsettling their young lives feel right now with so much in the future unknown? Are we going to support small local businesses who are making it on a wing and prayer? Will humanity win and will we come out of this a stronger and better nation because of it?
Life is short and can change in a moment and most of us learned this lesson without something catastrophic happening. May we never take our jobs, our family and friends and our health for granted again. May we never take our freedoms to travel, our amazing education system or fully stocked grocery shelves for granted. May we never forget that love trumps all and cooperation and kindness always win. What a blessing to have learned these lessons now instead of at the end of our lives when it's too late.
The ball is in our court America. Let's stand together, listen to the experts and put our health and safety first. Let's be good humans, good citizens, good friends and good family members. Let's mow our front lawns, clean out our closets, catch up on our laundry pile, read a good book and play games with our kids. Let's learn the lessons we can from these trying times and become better American's going forward. Let's settle down and settle in.
Let's do this… for ourselves, our community, our children and our future generations.